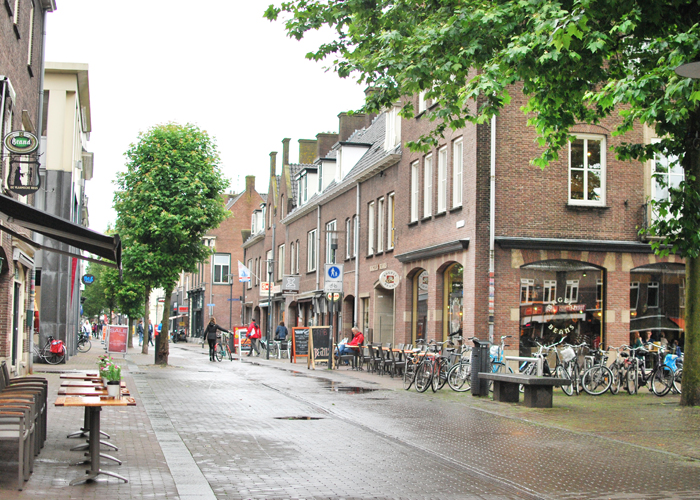 Wageninen is a small Dutch town (pop ≈37k) located on the Rhine River in the Gelderland province of the Netherlands, around a 75 minute drive south east of Amsterdam. (It's actually closer to Germany than it is to most major Dutch cities.) It is home to a popular, international university and has a rich history, dating city rights back to 1263 and having mention of settlement as far back as 828.
The most prominent (and recent) historical event to take place in Wageningen was the surrender of German German General Johannes Blaskowitz to Canadian General Charles Foulkes at the Hotel de Wereld on May 5, 1945, officially ending World War II in the Netherlands.
But enough with the history lesson…Wageningen is—most importantly—the current hometown of my best friend Diana and her sweet little family. This is where we spent the first half of our recent trip to Europe. Our days spent there were by far the most peaceful of our trip and were filled with family time, relaxation, lots of great food, and a little local exploration. Perfection!
When Di asked us one day what we wanted to do while we were there, I told her, "We're doing it!" Just hanging out in their home, taking in the views from their back porch…so good. I fell in love with their life there, living in the countryside but only being a five minute drive into town. It made me wish for a simpler life surrounded by everyone we love, instead of this hopping around we've been doing this past year.
We also ventured out into town a bit. We wandered the brick streets of Wageningen, visiting a few shops and having lunch on the square. Another outing to see the local—and still operational—windmill, De Vlijt, was followed by a visit to a nearby castle, Kasteel Doorwerth…both of which I'll cover in a future post.
Di hosted a cookout over the weekend we were there to celebrate her birthday. Family and friends came over and everyone was so nice to the non-Dutch-speaking Americans. Even those who spoke no English introduced themselves and welcomed us to Holland. We attempted to use the few Dutch words we knew, laughing at our mis-pronunciations and so thankful for anyone who was able or willing to converse with us in English. We made some new friends and enjoyed discussing things that were different back home versus things we'd experienced there.
Once of the most interesting things about a trip like this is to see what things are so similar, yet so different from what you're used to. Fixtures in a house are the first thing you notice: plugs, light switches, the way doors close (against the jamb instead of flush with it), how to flush a toilet, how to turn on the shower. Kitchen style, in general. Architecture, obviously! A visit to the grocery store was interesting as well, seeing the different brands and how much more fresh-based everything was. Local foods, candy, and snacks. The fact that it was still light out at nearly 11pm. Another difference is that at their cookout, if you wanted something grilled you did it yourself! Nobody stood around and acted as cook…you grabbed your burger, threw it on the grill, and were responsible for it on your own. This is a party trick I think I'll institute at our next family get-together.
On Tuesday, the fifth day of our trip, Di drove us to the train station in Rhenen so we could head to Belgium. Saying goodbye is always difficult, and I didn't want to go! All I can do now is count down until the next time we'll be together, which I hope won't be too long. It usually never is.