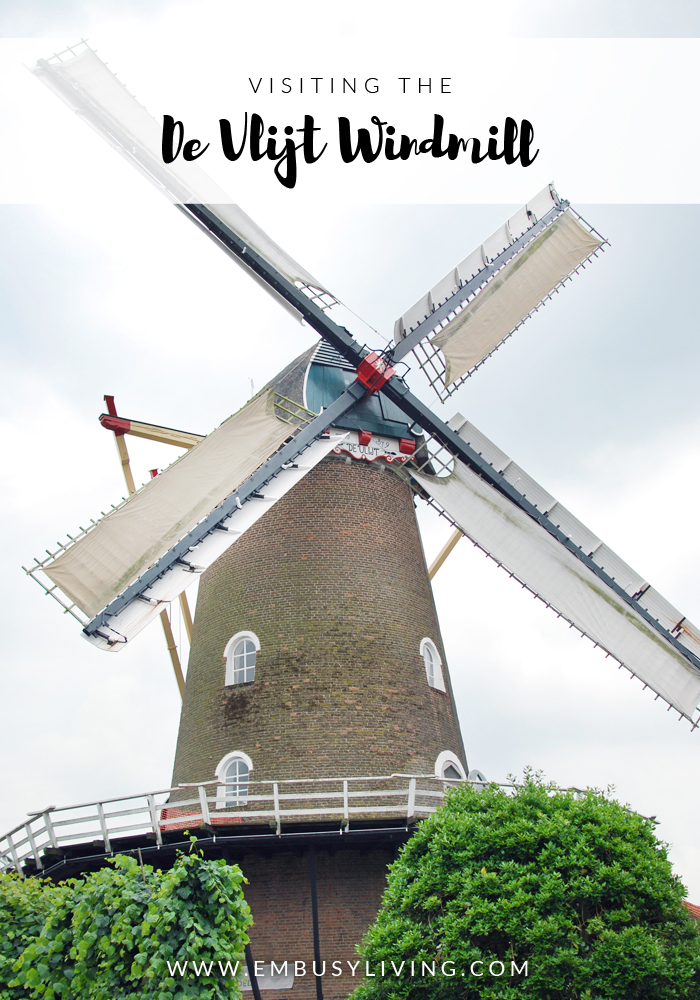 It may be one of the most touristy things a visitor to the Netherlands can do, but seeing a windmill while visiting the country is one of those things you almost have to do. They're so iconic, and "so Dutch." I was happy just seeing them from the highway, smiling whenever I spotted one from the car as we passed, but I never dreamed I'd actually get to go in one. After a day of rest and sleeping off our jetlag, Di and R drove us into the town of Wageningen so we could see their historic, working windmill, De Vlijt.
Built in 1878, De Vlijt is one of the oldest windmills (or as they call it, a "wind flour mill," or "windkorenmolen,") in the country still currently used in flour production. It was named "de Vlijt," or "the Diligence," as one of the former millers was in poor health but diligently continued his work there.* The structure was damaged during WWII, but was repaired and back to work by 1952. It was most recently renovated in 1979, when the current millstone was installed. Different flours and grains are purchased by local bakeries and restaurants and are also available in smaller bags for individual customers, making De Vlijt one of the largest craft mill companies in use daily in the Netherlands.
(*I really hope I'm getting all of this history information correct…I'm using very broken translations to pull it all together from my research across the web.)
I was excited to walk inside and see all of the different flours and mixes for sale, but I was surprised to watch R climb the steep ladder leading from the store floor to the second. He encouraged Dan and I to follow him up, and suddenly we were standing amongst millers and other workers as they bagged flour. It felt slightly invasive to be standing in their workspace, but R assured us it was fine, encouraging us to climb another ladder. Finally we were on the third floor, with large doors open to the access platform and grains and flour flying down chutes all around us.
Of course we went out on the platform to look around and see the views over Wageningen. We were soon joined on the deck by a man who seemed to be the lead miller, possibly the owner, who explained (the best he could in English) how the mill worked. The town building codes regulate that buildings within a 100 meter (109 yard) radius cannot be taller than a certain height so they won't block the wind, but updates have been made that allow the mill to be turned electrically.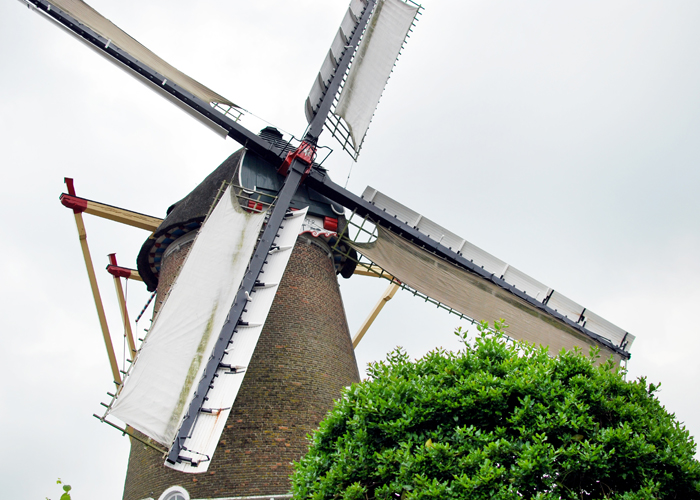 De Vlijt is open Thursday – Friday 9am-7pm and Saturday 9am-6pm
Address: Harnjesweg 54A, 6706 AT Wageningen
www.molendevlijt.nl
www.facebook.com/windkorenmolendevlijtwageningen