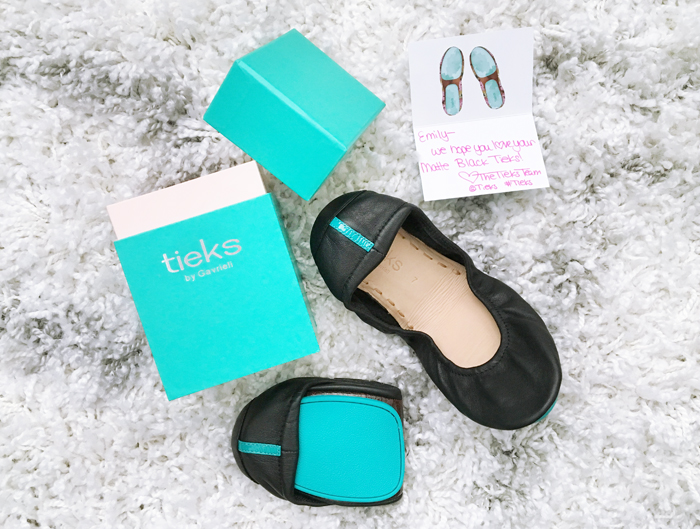 When I started realizing that a job offer from my current company was inevitable this past spring, I immediately starting taking mental stock of all of my "professional" clothing. After the many moves we've made in the past year my wardrobe is down to the minimum, and I love it that way! Though there was one thing I quickly realized I needed…shoes. Enter: Tieks.
I'm down to pretty much one of everything I know I'll actually need, and then some band tees thrown in on top of that. For most of these staple items, I'll make several trips to the mall or stores to find the exact perfect one for me, then don't buy another one until I need to replace it. This list usually includes things like the perfect pair of black pants, the perfect handbag, the perfect black ankle booties, and the perfect pair of slip-on ballet flats. Unfortunately, my amazing and well-loved Nine West flats—purchased when I started my job in California…in 2013(!)—were starting to fall apart on me. (How they lasted me that long is beyond me, but hey…I'm thankful! They rocked!)
I hate shoe shopping. There, I said it! Shopping for shoes is probably right up there on my list of least-favorite things to do with things like going to the dentist. But…I needed new flats for this job, so off I went to the internet to poke around and see if I could find anything that interested me enough to visit a store for. Luckily, I didn't have to go far. After seeing ads for Tieks over and over again online, I finally visited their website to learn more. My first thought was "no shoe is worth that much," because let's be real…it's a ballet flat, and the price seems a bit steep.
I clicked over to their Facebook page and saw that my friend Ann Marie was a fan, so I messaged her and asked her if she had a pair. Her exact words were, "I do…I own four pairs! I teach in them and wear them all the time." My mom was a school teacher, so I know exactly how much teachers are on their feet. If Ann Marie wears hers to teach in, surely they would be comfortable enough for me to wear to work. She followed up by telling me they were comfortable enough to wear all day while walking around in Paris, and that really caught my attention. My old flats were comfy enough for work for sure, but even just a trip to the mall in them would cause my feet to ache.
After reading more about their quality, durability, and more glowing reviews concerning their comfort, I thought it might be worth it to give Tieks a try. After all, if I'm only going to buy one pair of flats every three years, I might as well buy a really well made, comfy pair that will last me that long, right? (Maybe even longer, if I'm lucky!)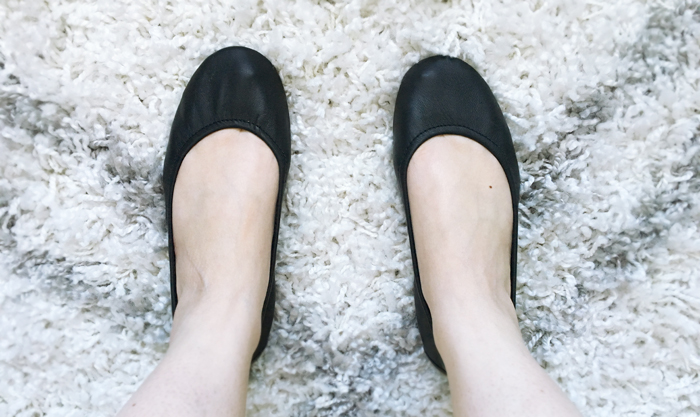 The verdict:
Tieks ship free and show up at your door within days. I choose the matte black ones, of course, because if I'm only going to have one pair they better match everything. (They have more colors than I could ever choose one from, if I were to go that route!) The packaging they come in makes you feel like what's inside is really special, including a hand-written note by someone on the Tieks team. (Nice touch!) A small bag is also included, just in case you want to fold them up and stow them away in your bag, maybe if you ever need to change out of them into something like heels. I don't think I'll get much use out of that bag…heels aren't ever on my list of staple items, haha!
I'll admit…the first time I tried on my Tieks they made farting sounds with every step I took around our apartment! (This was from my heel sliding across the inside sole when I stepped down on them.) While Dan laughed at me, I wondered out loud how I was ever going to break them in past that point without having to wear them in public. I slipped them on a couple more times while I was at home, but they never did make make those sounds again. Thank goodness!
At first I was a little worried about how far down on my foot the front is; the elastic doesn't rub at all, but the fact that it rests just on top of the bone at the first joint of my big toe took some getting used to. The quality is superb, nothing rubs against or irritates my feet anywhere, and they have been just as comfy as I'd hoped.
So far I've worn them to work every day…and love them! I'm even taking them with me to Holland this week because I trust in their comfort enough to wear them out on our daytime excursions. I think that will be the true test…whether or not I can wear them all over a big city like Amsterdam without having to switch into sneakers. I'll be sure to report back! I also can't say at this point how long they will last me, but I have a feeling we're going to be together for quite some time.
And just so you know…this is totally NOT a sponsored post! I just love my Tieks so much at this point that I wanted to share! Do you have any Tieks? How long have they lasted for you, and which color did you choose (or would you choose)?