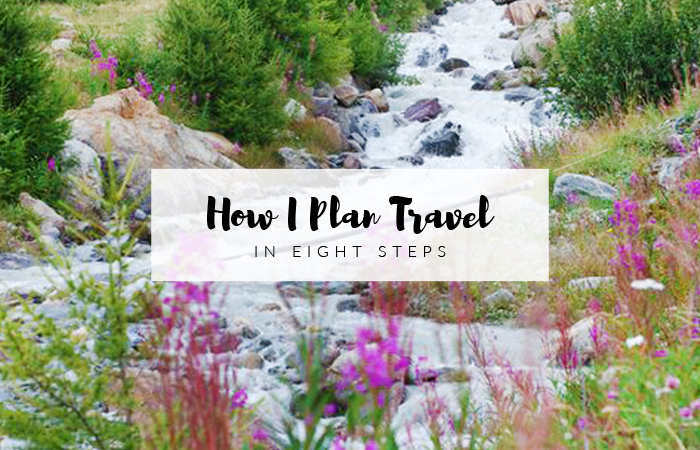 If I could be a professional travel planner for people I would be living my dream life with my dream job. Even when I've been someplace several times, I love researching and planning for my trip before I go. Sometimes I might even go a little overboard, but the excitement of planning is what gets me hyped up. With our upcoming trip to visit Di in Holland getting closer and closer, I thought I might share the process of how I plan travel.
Before you roll your eyes, just know that I'm not the type of traveller who has to have every moment planned out in advance, but I also don't like to arrive somewhere without something on my itinerary. I've tried traveling with no plan before and just ended up feeling like I wasted my time on that trip while not knowing what to do or where to go next. I like to have one or two good things planned in advance, a few nearby restaurants in mind that I could pop into spontaneously, and plenty of free time to wander around aimlessly to see what the city has to offer.
Without further ado, here are the steps I take when planning for an upcoming trip. Get comfy…this is a long one!
1 | Choose & Book
The first step to a trip would obviously be to decide where you want to go. I don't think most people need help choosing somewhere they'd like to visit, so I won't be touching upon that topic here. I also won't go into the details of booking travel, since those details tend to vary so much. Whether you drive, fly, or take a train, there are literally hundreds of posts and websites out there to help you choose the best airline, figure out the best departure times, or how to navigate train systems. Moving on!
2| Beginning Research
Once my dates are set and my transportation is booked I'll start doing research on how to fill the time between when I arrive and when I leave. With most destinations, I already have a few things in mind for my time there, (obviously places like New York City=Washington Square Park, or Orlando=theme park, etc,) but I want to make sure that there's nothing where I'm visiting that I'll find after the fact and really regret not seeing. Here's how I research what to do on my trips:
Blog Posts & Pinterest
I use blogger recommendations like nobody's business. Whether I'm looking for a cool gift for a friend or want an honest review on a local restaurant, reading various blog posts on the matter is (in my opinion) the way to go. When I read a cool blog post that I want to save for later reference, I'll pin it to an appropriate board on my Pinterest account, so when researching my upcoming trip I'll head straight to my boards to see if I've already pinned something I found useful or interesting in the past, preferably by a blogger I follow regularly and trust. If I have nothing saved I'll spend a little time searching the rest of the site for new posts to read through. I will usually run across a restaurant recommendation or part of a neighborhood that I haven't seen too much of on one of those general "Places to See In…" lists.
Foodie Websites
One thing I've realized about past trips is that I'd visit the city with museums and other sights in mind to see, then end up having no idea what's nearby for lunch or what I should do for dinner. Much like blog posts and through Pinterest, foodie websites are another great resource for finding great restaurants at your destination. Sites like Bon Appetit or Saveur often have great recommendations by well-traveled writers who have a lot of practice in finding and critiquing the best restaurants at various price points.
Social Media
Why not ask friends? A simple Tweet can bring in recommendations from followers and a shout-out on your personal Facebook page may invite the same from friends who have been somewhere before you. What they think you should not spend your time or money on are also vital opinions.
3 | Google Starring & Searching
Have you ever "starred" (saved) something on Google Maps? My Maps app is littered with little gold stars, and with good reason. Whenever I'm out and about I can always pull up Maps and find a restaurant or business quickly while I'm on the go. This is one way I'll save all of the places I find after step one. If I'm convinced that a restaurant I've read about is one I should check out, I'll check their website to see if it's in my budget (and still open) and then head over to Google Maps to find and star it there. I'll do this same thing for other interesting sights around a city as well, ending up with something like this: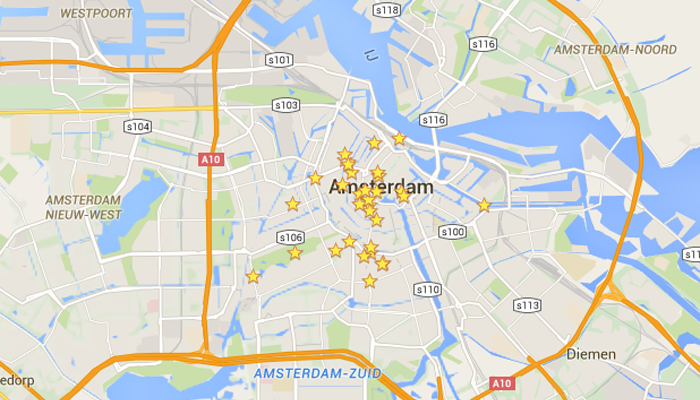 The great thing about using Google Maps this way is that if you're logged into your Google account on your desktop and your phone you'll be able to see all of these saves between your different devices. Even while traveling in a city where I have no mobile or data service, I can save this map for offline use and pull it up while I'm there. If I'm hungry while wandering De 9 Straatjes district, I can open my Maps app and find that the well-reviewed "Pancakes" is just a couple of blocks away.
4 | Hotels
By this point I have a pretty good idea about where I'd like to spend most of my time in a city. After seeing where most of my stars are centered I'll start using the same map to search for hotels. Of course, using a site like Hotels.com or Booking.com will give you a better overview of what's available during your exact dates and in your exact price range, but I always keep switching back and forth between those sites and my Google Map to see where those available hotels are in relation to the things I plan on seeing and doing. I also usually have a pretty good idea of the layout of the city by this point and can use the booking site's map to do a little looking around.
When it comes to hotels (or B&Bs or hostels,) I search with certain things prioritized: 1) price / location (equally important), 2) guest ratings, 3) distance to public transportation. Things like free continental breakfast can be nice too, but sometimes a hotel without it will be a better deal when it comes to location…and I can always check out one of the nearby cafés I've starred for my morning coffee.
5| Filling In the Gaps
Now that I know 1) where I'm going and when, 2) where I'll be staying, and 3) a few good places to eat, visit, and see while I'm there, it's time to figure out what needs to be pre-planned and what can be done on a whim. Using Amsterdam as an example (since that's what I've been currently working on researching,) I know that visiting such a tourist-heavy city during the busy time of year may require some pre-planning on my part if I want to make sure I have the opportunity to do some things.
When I first started researching Amsterdam, both blogs and people I know personally highly recommended the Anne Frank House and Museum, but everything I read online insisted I pre-order timed-entry tickets before I arrived. Even two months ahead of our arrival, every day during our trip was sold out. I kept looking day after day and finally found two tickets for the Friday we'll be there, but my only other options (had they remained sold out) would be to miss out on visiting this time around or risking hours wasted standing in line to do so. I don't know about you, but when I'm on a trip like this I want to maximize my time and not spend it in queues. Regardless of how "go with the flow" I want my trip to Amsterdam to be, I'm totally fine with buying time-reservation tickets to places like the Anne Frank House or e-tickets to the Rijksmuseum ahead of time so I will know when to show up and how much time I would like to block out for that visit.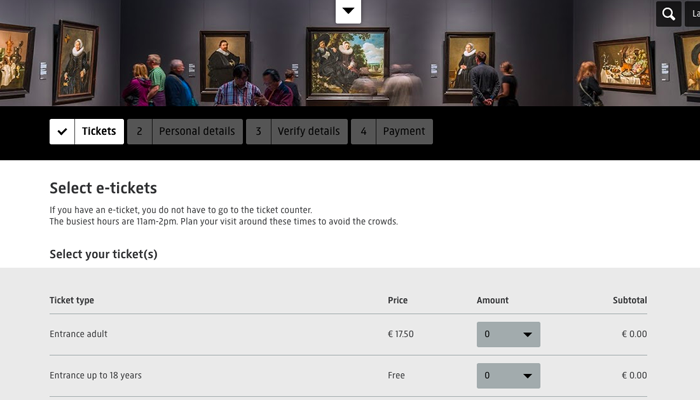 Do your research, find out what you're not willing to miss, and buy tickets in advance if you can. Always, always, always. Look up local tourism websites and see what ticket packages you can put together, too. I'm usually not a fan of these because of the high cost and number of activities I'm not interested in, but sometimes they can work out in your favor…especially if you're the type of traveler who wants to visit every museum in town.
6 | Getting Around
I tell people all the time that my one and only talent in this world is that I have an exceptional sense of direction. While I know that not everyone can look at a map and learn the lay of the land, having a sense of the layout of a city before arriving will help immensely. Even so, I will spend a good amount of time researching the public transportation available as well as the best ways for me to get from Point A to Point B.
Walk or Ride? This is the first thing I'll ask myself when figuring out how to get to my destination from my hotel. Using Google Maps again, I'll start by locating my hotel and clicking on "directions." Then I'll plug in my destination and see what pops up. As an example, I'll figure out here how to get from the Waldorf Astoria Amsterdam to the Anne Frank House. And no, we aren't staying at the Waldorf (I wish!)…safety first! Google will give me different travel times depending on if I decide to walk, drive, or take public transit. Since I won't have a car, I'd have to decide between hopping on a tram or walking the 1.9km on foot. Because the tram would almost take just as long, I'd take the scenic route along the canals instead. Now I'd know ahead of time that when we're there we would need to factor in at least 23 minutes (probably more like 30-35) to get there on time for our appointed entry time.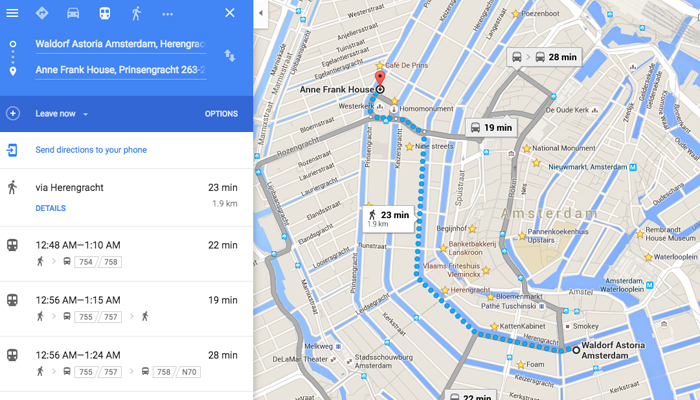 Public Transit Public transit can be the best way to get around on a trip due to availability (in major cities and some smaller ones) and price. Most major cities with really well structured public transit also try to make it as easy as possible for newbies to navigate their pricing structure and maps. Being the GPS addicted society we have become, many people are intimidated by the thought of trying to use public transit like the NYC Subway system when they visit for the first time. Before your trip, take the steps to look over the maps online and figure out which stops will be nearby your hotel and how they connect you to the city center and major sites.Just Googling "Amsterdam Tram" directs me to this handy guide on how to navigate their tram system plus links to maps and ticking information. I can guarantee any other major destination will have a similar site for you to investigate, with the scariest factor being a foreign language. (Just look at those Dutch names for the tram stops!) After learning which stops are nearest my hotel, I can use their interactive map to figure out which tram to use to get to and from Centraal Station (for our arrival from and departure to the airport.)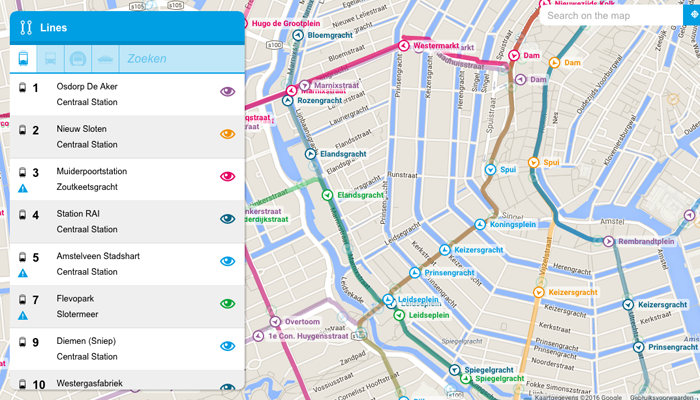 7 | Use Your Phone & Get Social
Thanks to widespread WiFi and offline-available apps, using my phone to help navigate and connect with the places I visit is easier than ever. I've grown accustomed to utilizing social media while traveling to find new places (Instagram is great for this!) and also to contact places that I have reservations with. I consistently use Twitter for customer service questions or issues and find it to be the quickest way to get a response. For example, I've Tweeted to Wow Airlines (for our upcoming trip) multiple times and they've always responded quickly and in a helpful way.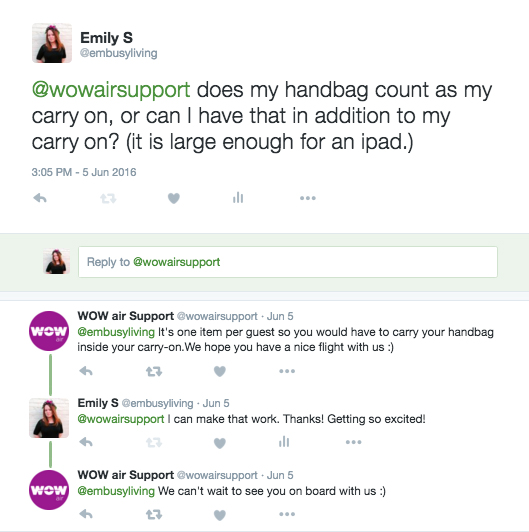 Here are a few other ways to utilize your phone, social media, and apps while traveling:
Follow your hotel, airline, and any other paid travel services on Twitter and Instagram. Even if you never need to contact them for customer service, you'll at least know who to tag (and any of their related hashtags) in your own posts and photos.
Follow any museums, tours, restaurants, and shops you wish to visit on Insta and Twitter as well. They may have deals or discounts available, share things like Happy Hour specials, or show you something there that you didn't know you could see (and will now know to look for). They will also let you know if there are closures or other things that come up. I found out through Instagram that certain halls of the American Museum of Natural History would be closed during our visit; we still went, but at least we weren't blindsided or disappointed to miss something we really wanted to see.
Download city-specific apps. While visiting official sites, such as Discover Holland or the Amsterdam Tram, look to see if they have an official app. (Follow them on social while you're at it!) Most of these official tourism and transportation sites have caught up with the times and provide apps with maps and recommendations for you to use while you're out and about, and some even give you live transit times. So far I've downloaded the GVB app (for the tram), Reisplanner (for the national train company) and GPSmyCity Amsterdam app.
8 | Write It All Down, Print It All Out
I'm the type who still likes to write everything in a notebook. My trusty Moleskine journal goes everywhere with me and I'm constantly checking or updating it with my schedule, notes, and more. Here are just a few things about my trip I'll record for reference while we're there:
Flight/Train information I'll write down departure times, flight numbers, confirmation numbers, and other notes about my travel before anything else. Confirmation numbers are especially important since you'll need to reference them at check-in or when speaking with customer service. I know a lot of this can be done on your phone now, but you never know what might happen. It will be helpful if your phone is dead, lost, stolen, or you just can't find WiFi to pull it up.
Hotel Info I'll also write down the name, address, location notes (ex, "on the corner next to Duane Reade,") confirmation number, and contact information for any hotels or AirB&B hosts I may need to contact. I'll also be connected with them on social media too, remember? There should be no reason for me not to be able to get in touch with my hotel if needed! It also doesn't hurt to write down what you booked (ex, "Standard Double Room") just so you won't have any issues or end up with the wrong room at check-in.
Other Confirmations I've also written down the address and our ticket time to visit the Anne Frank House, as well as a couple of other notes about how to get there. If you have a dated or timed ticket, write it down so you won't get the dates mixed up and miss your excursion.
#Hashtag it Up This goes back to the social media thing…I have an entire page in my journal dedicated to location and/or venue-specific hashtags. If you're the type to use hashtags on your Insta photos, looking up and taking note of a few of the more popular ones can be a fun way to share and connect over the memories you capture. Examples for our upcoming trip include: #annefrankhuis, #thisisholland, #amstergram, #gramthedam, #amsterdameats, #nederlands
Print It/Copy It It's never a bad idea to print out your confirmations, even if it does seem like overkill. Keep your printed confirmations in a different place than your notes, just in case a bag goes missing or something else terrible happens. You should also make a copy of your ID, passport, or any other identification you might need on  your trip and also keep that in a different place than your original. You can never be too careful with this.
I know this was a ton of information to take in at once, but I hope that someone out there may have picked up an idea or two that will help them in their own travel planning. Please share some of your own travel tips in the comments! I'd love to know if there's some new planning tip I can incorporate into my own habits!