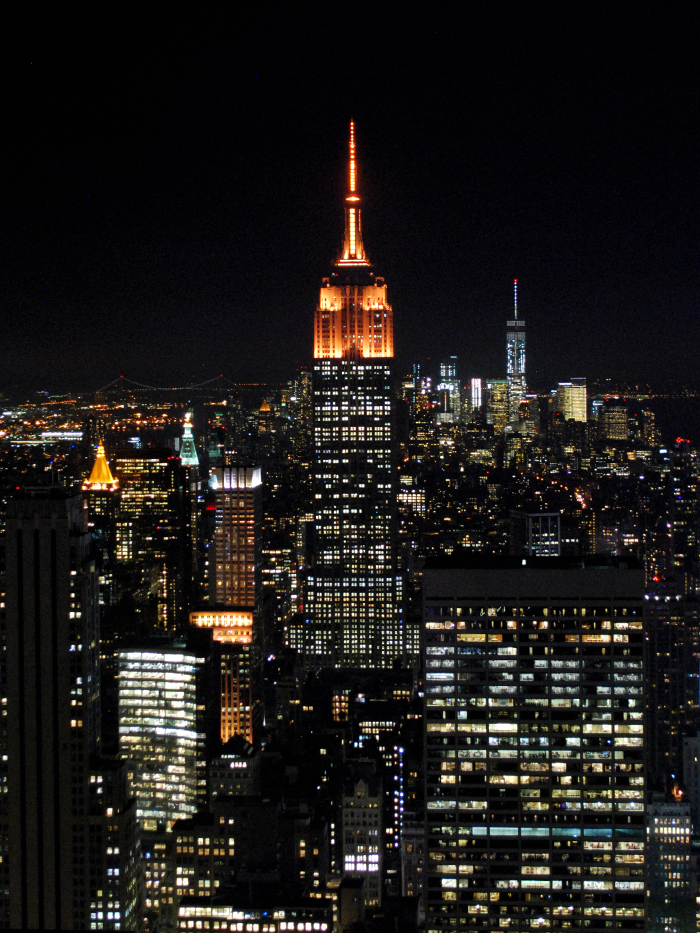 Ever since we moved back from New York City in the fall, I've been wanting to share a few more tips, ideas, and photos from our time there. I know I'm almost seven months late on most of this, but better late than never, right?
While we lived in New York, one of the guys from Dan's office in California had to come to the New York office for a few days to help them move to their new office space. He asked Dan and I to show him around in the evenings and wanted our advice on the best ways to spend his time and still see a lot of what New York has to offer. Then came one of the most debated and frequently asked questions by NYC visitors: Should I get tickets to visit the Empire State Building or Top of the Rock? The resulting answers will depend on how much time you have in the city and who you ask, but if you're asking my opinion (as he was,) you'll always get the same answer: Top of the Rock, hands down.
I've visited both towers on various visits to the city, but my reasons for choosing TotR are many. I'll do a little comparing below, but obviously this is my opinion…so take it for what it is.
The Empire State Building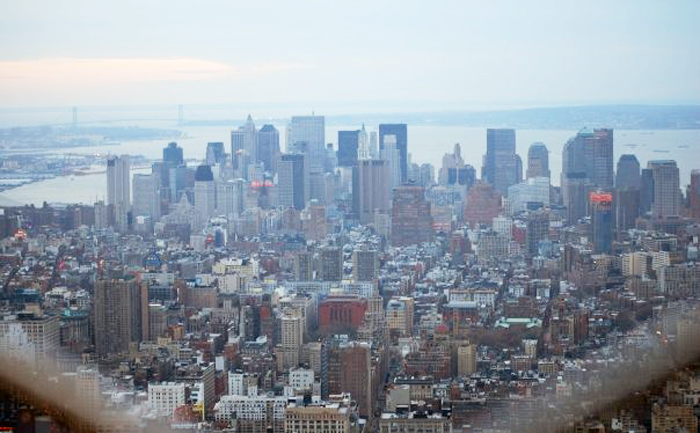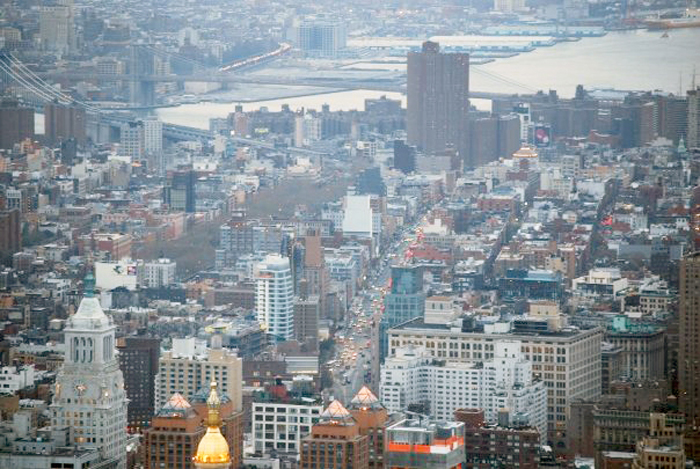 Excuse the poor photo quality…my skills and equipment have seen quite an upgrade since!
I first visited the Empire State Building in 2011 and haven't been back since. I honestly felt at the time as though it were just a checkmark on a list of things you were "supposed to do" in New York. The view is pretty awesome of course, and as the tallest building in NYC at the time it was unbeatable as far as height and point of view. (One World Trade Center and 432 Park Avenue now hold the #1 and #2 spots, respectively, with the ESB now coming in at #3.)
But I wasn't a huge fan. The lines for the elevators were long and slow-moving. Dan and I gave up waiting on the 80th floor for the final set of elevators (another line) and decided to climb the stairs to the 86th floor, which really hurt after a long day of walking. (Instant regret.) I took a few photos of the surrounding areas and had a fairly easy time doing so through the metal criss-crossing barriers, but without being right against them, the metal bars were in all of my other photos.
At the time I visited, the only observation deck we could visit at the Empire State Building was the Main Deck on the 86th floor (1,250 feet /381 m). The Top Deck on the 102nd floor was not open that day, but would have included another line, additional cost, and—according on online reviews—does not necessarily give you much more to look at. When you are the highest thing around, being an additional sixteen floors higher only makes the world below much smaller.
Top of the Rock


The best way to describe a trip to the Top of the Rock (the observation deck on top of the GE Building at Rockefeller Center) is that it makes you feel like you're "in the middle of it all." The photos above will show you what I mean. While you are in the city's third highest observation deck, you're only on the 69th floor of the city's 14th tallest building (850 feet / 260 m). This means that not only are you looking down on what's below, but you're also looking out at what else is around you. TotR also has a great view of Central Park, which is obstructed in the view from the ESB. There are also multiple levels on this observation deck, most of which are surrounded by glass instead of metal beams. (The highest decks here simply have rails, as they overlook the larger decks below.)
Another plus is that if you plan your visit around the perfect time, you can hang out and watch the sun set from the top…but if you can't work that out you could upgrade to their "Sun & Stars" package to visit once during the day and come back again after dark. Unlike the Empire State Building, I've visited multiple times (day and night), and would definitely visit again in the future.
Compare:
Here are a few other things to factor into your decision (if you're still not convinced):
Empire State Building:
Tickets: Main Deck: $32 adults / $29 seniors (62+) / $26 kids (6-12) / Under 6 free
Main & Top Deck: $52 adults / $49 seniors (62+) / $46 kids (6-12) / Under 6 free
Hours: 8:00am – 2:00am, 365 days a year
Reservations: Not required or available. Some special occasions/dates have VIP packages available.
Optional Add-Ons: "VIP Express Passes" allow you to skip the (long) lines: Main Deck $60, Main & Top Deck $80. The "Premium Experience" includes a 90-minute guided tour, express passes, and a souvenir photograph ($175).
Location: 350 5th Ave, New York, NY 10118 / between 33rd and 34th Streets
Buy Tickets Here!
Top of the Rock:
Tickets: $32 adults / $30 seniors (62+) / $26 kids (6-12) / Under 6 free
Hours: 8:00am – midnight
Reservations: Not required, but recommended. Unscheduled tickets must be exchanged for timed tickets upon arrival and may not guarantee entry at that time or date. Scheduling when purchasing is your best bet.
Optional Add-Ons: "Sun & Stars" ticket (visit day and night in same day) is $47 for adults, $36 for kids. "Premiere Pass" (+$5) includes keepsake photograph and printed viewfinder map. You can also add Rockefeller Center Tours and MoMA passes for additional costs.
Location: Rockefeller Center, 30 Rockefeller Plaza, New York, NY 10020 / Between 5th & 6th Avenue, between 49th & 50th Street
Buy Tickets Here!
Should You Do Both?
Some people can't imagine visiting the city without visiting the Empire State Building, even if they're leaning toward the view from TotR. If you really want to do both, I recommend the New York Explorer Pass from SmartDestinations. $54 will buy you passes to both attractions, saving you $10. Plus, you can add on any number of other attractions for even more savings. No, this is not a sponsored post in any way and no one paid me to recommend this option, but it truly is the best multi-ticket option out there (versus some of those companies that charge $150+ and include all sorts of things you might not want to do.)
In Conclusion…
If you can only choose one, go with Top of the Rock. The views are outstanding and the ability to choose a near-sunset ticket time is an awesome perk. Also, the surrounding neighborhood is packed with other great sights: Rockefeller Center Plaza, St. Patrick's Cathedral, all of the upscale shops along 5th Avenue, plus great proximity to Times Square (west) and Central Park (north).