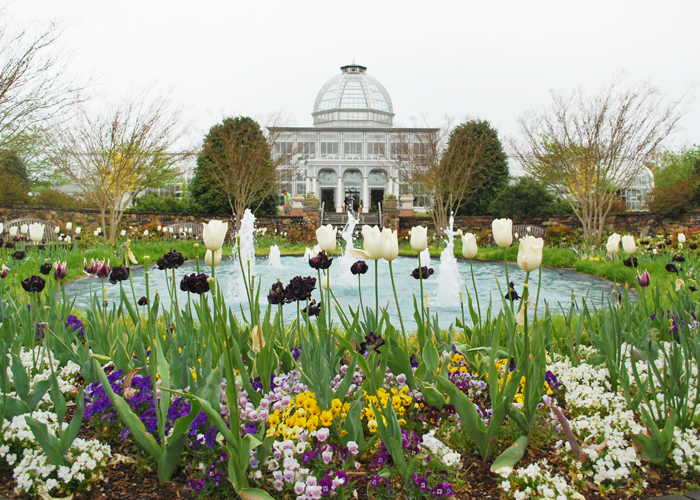 A few weeks ago I joined my friend Carly at the Lewis Ginter Botanical Garden here in Richmond for her birthday. I had been wanting to visit ever since I read about how it is one of the best botanical gardens in the nation, so her invitation was met with an immediate yes! Since we visited during the peak of daffodil and tulip season, the gardens did not disappoint.
I have never considered myself much of a "flower person," even though all of the other women in my family definitely are, so I was shocked to realize how much information I have apparently picked up from them over the years. I was able to identify many plants as we made our way around, familiar from my mother's own gardens, and realized as I went that I actually am quite the "flower person!" Maybe it's a part of growing up, but now I'm dreaming of colorful beds of flowers and shrubs surrounding my future home.
The day that Carly and I visited was unfortunately at the beginning of this seemingly never-ending rain we've had for the past several weeks. The rain drizzled the entire time we wandered the grounds, but I just let my hair frizz out and enjoyed myself regardless. The rain definitely couldn't stop me from enjoying my first taste of a real spring season in three years!
Lewis Ginter was an entrepreneur and philanthropist in Richmond in the late 1800s (read more of his extensive and impressive history here) who built and established the Lakeside Wheel House, now the gardens' Bloemendaal House, in 1894. His niece inherited the property and lived there with a friend until both of their deaths, leaving the house and property to the City of Richmond with instruction to create a botanical garden there. After a few hiccups, the gardens were finally established in 1982.
There are several different sections of the grounds across these 50 acres. Along with ponds and endless winding pathways through different gardens, there's a children's garden (with a treehouse!), an educational center (offering classes and workshops), the Bloemendaal House, and of course, the majestic glass Conservatory. Oh…and did I mention that there are butterflies? Because there are butterflies!
Stay tuned for future posts from this visit…I took too many photos to include in just one!
Visit the Lewis Ginter Botanical Garden
Address: 1800 Lakeside Avenue, Richmond, Virginia 23228 (Use "Henrico, Virginia" in your GPS!)
Hours: Open 9am-5pm every day! + extended summer hours and special events. (Only closed on Thanksgiving and December 24 & 25.)
Admission: Adults $13 / Seniors 55+ $11 / Military $10 / Kids 3-12 $8 / Kids under 3 Free
Membership for one adult is only $65 a year! This is equal to admission for five visits. I think I'll be signing up next time I go!
Socialize: @LewisGinter on Twitter & Instagram