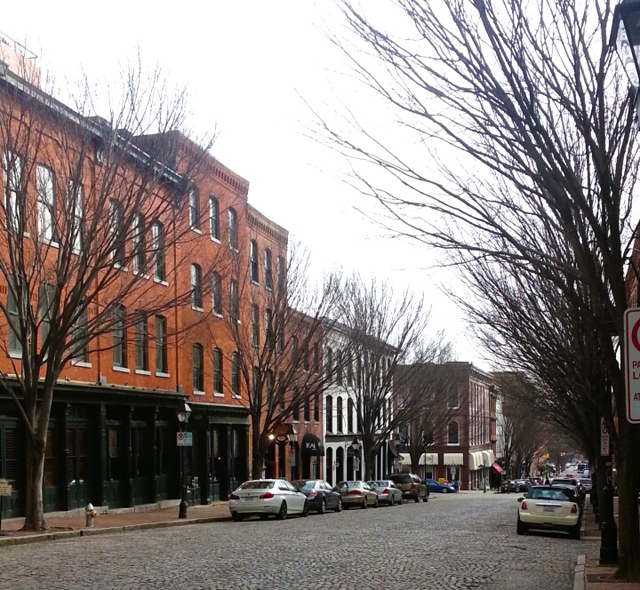 > It's been a slow week over here. I'm aching to dive into some sort of creative venture, but I'm not exactly sure where to start. Help! I'm feeling creatively blocked.
> I had lunch last Friday with an old friend, Katherine, and lunch this past week (at the best Indian restaurant) with one of my old college roommates, Lara. I love that I have friends around here! I especially love when I can walk just a couple of blocks to Shockoe Slip to meet up with them.
> Snowpocalypse! Yesterday I was finally smart enough to look up where Richmond is on the map of Virginia. I have a general idea of course, but I haven't yet learned how to identify exactly where we are based on the outlines of surrounding counties when they don't specifically spell out RVA on the news. Hello, Chesterfield and Henrico counties! According to all those maps, I now know that we should be getting anywhere between 2 and 27 inches of snow. Good to know; I definitely feel more prepared now.
> I chatted with Mireya, my old coworker from California, yesterday. She's from Mexico City originally and we used to have frequent conversations about the differences between where we were from and where we were (Orange County, CA). Of course, Mexico City and OC are very different from Virginia, and the weather is just one of the major standouts. She was laughing over the idea that we can no longer find a loaf of bread in the grocery stores here, and the whole "milk sandwiches" joke was all new to her. I keep sending her memes like this, this, and this. I also suddenly realized that all of our power lines in Orange County were underground—which is a crazy thing to just notice—but she was also shocked to hear that an impending snowstorm of this magnitude could knock out our electricity for several days.
ICYMI
Reading
Obviously, I've had a lot of time on my hands this week. I flew through both of these books in four days. If I keep this up, I'll definitely surpass my reading goal for the year!
Keep an eye out…I'm bringing back my Monthly Reads post of reviews at the end of this month!
Blog Love
On the Internets