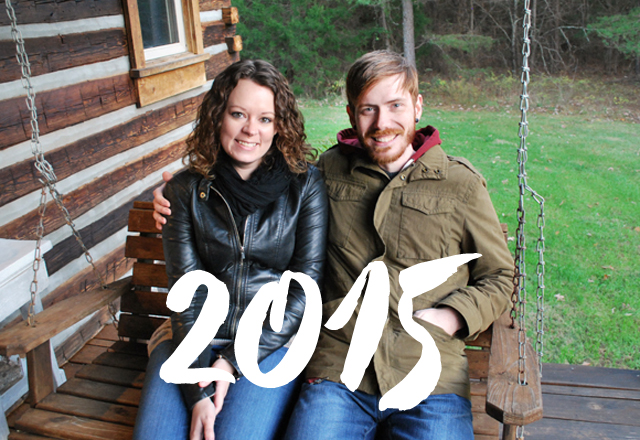 Well here it is, the end of 2015. I feel as though I've lived so many different lives during this crazy year; it couldn't possibly have all happened in only twelve months. I've experienced so many amazing things and learned so much about myself this year.
I always like to write a little year-end roundup on my blog, but bear with me if this one's a bit all over the place. I have loved going back through my posts from this year and remembering these experiences; it reminds me why I started blogging in the first place.
So here goes!
A Few Stats




Things started getting real in July. I Craigslist-ed too early and we were furniture-less for weeks. Whoops! I announced that our next destination was New York City. Dan and I went paddleboarding for the first time and wondered why we hadn't tried it sooner. We climbed the cliffs at Pirate's Cove. We bought all the souvenirs. My bff Claire flew to CA for a long weekend of fun, followed by a last-minute visit by our friend Amie. I waved goodbye to the waves of the Pacific. Dan and I celebrated our fifth anniversary with a trip to Disneyland.
We left California in August. Moving day was stressful. I was excited and our trip across the US was beautiful, but I also grieved over the transition. I kept myself busy by exploring Roanoke and other nearby towns. It was the time spent with family that really made our move back east worth it.
September was rough, but wonderful. Stressful: Living out of boxes for weeks. Dan's job in NY awaiting me finding a job in NY so we could afford to move. Driving 8+ hours to NYC for an interview. Wonderful: Landing the job I interviewed for! Spending a weekend in Pennsylvania with family. Spending Labor Day weekend at the lake like old times.
October was all about New York City. We moved into temporary homes and started our jobs in our new offices. (Old job/new office for Dan, new everything for me.) Chelsea came into the city to celebrate my 29th birthday with us. I opened up about what a hard time I was having with our new life, but we had a great time exploring our new home.
November = fun, yet difficult. Dan and I explored like crazy, from The Highline to the American Museum of Natural History to Central Park and more. I enjoyed wonderful brunches and dinners with my fun and beautiful friend Ada. I joked about what I actually fear in New York. Then the world reminded us what a truly scary place it can be. Dan and I finally made the extremely difficult decision to leave New York. We quit our jobs, returned to Virginia for Thanksgiving with our families, and just didn't go back.
December has felt like Christmas break during college. We went back and forth between my parents' home, his parents' home, and Richmond for interviews and apartment hunting. Dan landed a new job a few days before Christmas (but hasn't started it). We had several different holiday celebrations with family and friends and have never been happier to have moved back to Virginia.


It's been a wild ride, 2015! I'm so thankful for our experiences and the crazy life story we've been writing for ourselves. 2015 has taught me that while planning things for our future is a great idea in theory, we can never really plan exactly how things will go or what choices will have the best outcomes. I'm heading into 2016 with an open mind, ready to take on anything this crazy life throws at us next, whatever that may be!
And before I go… I'm so thankful for the great friends I've made this year through this blog. I've met and followed along with so many amazing people online and I'm still shocked when anyone is as interested in my life as I am in theirs. I'm really looking forward to what 2016 has in store for everyone and excited for the many friendships to come.

>> Read my list of 2016 Goals here!