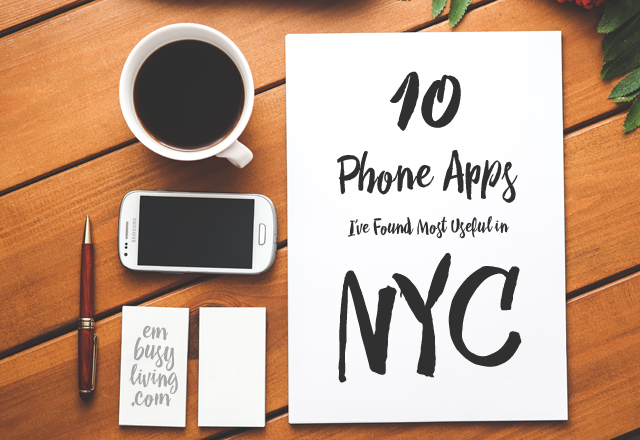 I'm always a little behind the times. My current Android phone is over 2.5 years old and I'm never the first in line to buy the newest model of anything. Because of this, I've been hesitant to download too many things onto my already-slow phone, but I've changed this habit since we moved to New York. With access to more local services and entertainment than ever before, I'm tempted to buy a new phone that can handle all of the other apps I've been missing out on.
Location-based apps aren't very useful when you live in places where there aren't a lot of modern services, but in New York City there is an app for almost everything. Whether you're moving in or just visiting for a weekend, here are ten apps that can help make your time in NYC a little easier.
Full disclosure: This post contains affiliate links that may result in my earning of a small commission or rewards if you click through and sign up. All opinions and suggestions are 100% mine.
TRAVEL
New York MTA Subway Map by Mapway
There are a lot of different subway map apps out there, but I went with this one for simplicity and I'm glad I did. I don't often find myself needed a subway map since I've been very familiar with the NYC subway system for years, but everyone needs assurance sometimes! This app allows me to check a stop or line while I'm on the go, even when I'm already underground with no signal or Wi-Fi. It's also officially licensed by the Manhattan Transit Authority (MTA) so I know I'm getting the same info you'd find on a map at a kiosk or on the wall.
MTA Weekender
Subway travel on weekdays and weekends can be two very different experiences. Most subway maintenance and construction projects are scheduled for weekends, so it's not uncommon to find that lines have been rerouted, express lines suddenly make all local stops, or that some stops are skipped altogether. Don't let that intimidate you though, because the MTA has provided this app with up-to-date info on exactly how to navigate these abrupt changes.
Uber
Hailing taxies in New York is pretty easy at most times of the day in most neighborhoods, but if you don't want to take any chances to make it to a show or would like to show up to dinner in a sleek Uber Black ride, definitely call up an Uber driver! When we had to move from our AirBnB into our next temporary apartment, using Uber was much easier than dragging all of our luggage to the closest busy intersection. Click here to save up to $15 off your first Uber ride.

EAT

Seamless
I am addicted to Seamless! I never dreamed I'd work in an office where people don't have time for lunch breaks, so I was thrilled to find out that I could order lunch on my phone—with no delivery charge or fee—and have it brought to my desk within half an hour (usually less)! You can even tip through the app when ordering. With hundreds of participating restaurants in New York, my biggest problem is deciding what I want. Most restaurants have a minimum order (average $10-15) but I haven't had a problem reaching that; adding a drink or other small item will do it, and usually the tip and tax go towards the minimum. I've also found that Seamless is available in over 450 cities, so I'm pretty much set wherever I go. Use my referral code and save $10 on your first order of $15 or more!
OpenTable
Nothing is worse than making plans to eat somewhere and then finding that there's a two hour wait. This can unfortunately be a frequent occurrence in New York City, where a ton of other people have also heard just how great that trendy new restaurant is and also want to check it out on a Friday night. I've even used OpenTable to reserve a spot at places that have turned out to not be crowded at all, but at least I was safer than sorry! Even if there's only a ten minute wait, now you're at the front of the line.
Starbucks
Speaking of skipping lines…the lines at Starbucks can sometimes be unbelievable. Thanks to Starbucks' new ordering feature on their app I never wait in line anymore. I've been treating myself to a white mocha at least once a week since we've moved here (...okay, sometimes more than once…) and I love walking in the door and passing everyone in line to pick it up at the counter. Just be sure to tell the barista you had a mobile order…I stood and waited over ten minutes the first time I used this app because I was waiting for them to call my name, while my mocha sat and cooled on the counter behind them. It's also too easy to reload my card from the app using PayPal…I might have a very expensive new habit.
SLEEP
AirBnB
Who hasn't heard of AirBnB, right? When we first moved to New York we didn't have a place to live, so we began by booking a week in a spare room through AirBnB. Our experience couldn't have been better, and cost us an average of $150 per night less than a hotel! This app allowed us to keep in touch with our host through messaging and convenient to use to manage our booking. If you're visiting and want the true feeling of living like a New Yorker, stay in a New Yorker's home! Click here to save $20 on your first booking through AirBnB.
Hotel Tonight
If you still want the hotel experience, using Hotel Tonight can score you some awesome deals. You can only search for offers that are within a seven day range, so this is for someone who has a sudden change of plans or is okay with a bit of spontaneity. I used Hotel Tonight when we suddenly had to be in New York for my interview back in September, and I loved that I could tell the app which days to keep an eye on and it notified me when rates dropped for those dates. We also found this really helpful on our cross-country move this summer!
ENTERTAIN
TodayTix
If you're heading to New York City anytime soon, you've probably already thought about the possibility of seeing a Broadway show. Instead of paying high prices or spending several hours in line at the TKTS stand, just download the TodayTix app and order away. Some savings are as much as 50% and some shows offer online lotteries for day-of shows. (No more standing in line at 7am for a chance at cheap tickets!) I've made it a habit to enter the lottery for Thérèse Raquin every day for a chance at $19 tickets, but no luck yet. One day! Use promo code "MBGQG" when you sign up for $10 off your first ticket purchase.
ETC
Amazon Prime Now
I've had an Amazon Prime account for the past couple of years and the perks definitely outweigh the cost, in my opinion. Imagine my joy when I discovered that I could have my orders delivered here in only an hour! For larger items, like packs of bottled water (yes, I'm ashamed we've been buying bottled water…our filter is in a box in VA,) it's so much easier to fire up the Prime Now app and have someone deliver it in a truck than try to carry it several blocks from the store myself. Call me lazy, but these conveniences exist for a reason! You can try Prime for free for 30 days, so you really have no excuse not to try it. After all, the list of cities where one-hour delivery is now available is growing like crazy.
I'm sure there are plenty of apps I could add to this list in time. For example, most museums and major attractions have apps to help you explore more in depth while you visit, so be sure to look up anything you'd like to visit to see if they have an extra feature like this!