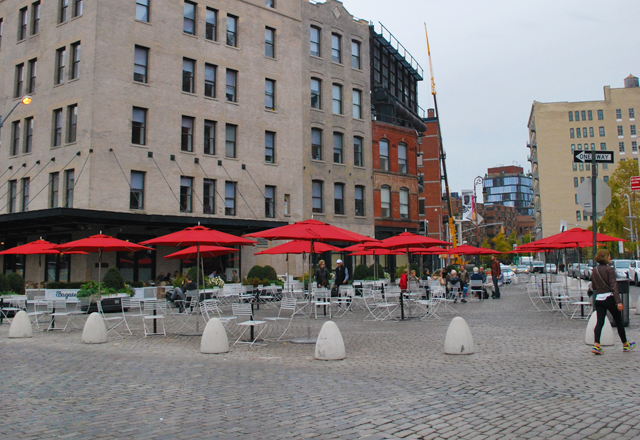 It has been quite the week. There has been so much fear, so many horrible things said, so many horrible things done. I'm so glad that this week is nearly over.
After the horrible events of last weekend in Paris, we've also been on edge here in New York after a threat was made online by terrorists Wednesday night. I've been avoiding crowded areas and public transit as much as possible ever since. I'll be so glad to drive out of this city for a while this weekend, just for a reprieve from the anxiety and unknowns. I don't like that Dan's office is right beside Penn Station. I don't like feeling suspicious and jumpy while walking to work. I don't like that our police force is standing on every corner in full riot gear and holding high-powered weapons. Well—I actually do like that…it does make me feel better—but I hate that it's something that even has to be done, as though NYC were an active war zone.
We're picking up a rental car tomorrow morning and making the 7-8 hour drive to my hometown in Virginia! I'm so excited I could burst. I cannot wait to be with my family again!
I plan on sharing a few posts next week, but if I don't, sorry! There really isn't any internet connection out there in the sticks, so we'll see what I can manage. We'll be in Roanoke towards the end of the week, so there will be some civilization.
ICYMI
On Monday I shared a few of my thoughts on Paris and how this recent tragedy will affect my life. The same way that 9/11 changed the world, this will also affect everyone's life in some way.
Hoping to do brunch one morning in New York City? Head to Bubby's.
Watching
Allegiant (trailer) Who's excited for the third movie of the Divergent series? MEEEE!!! It's been quite a while since I read the third book (being made into two movies, of which Allegiant is the first,) so I think I need to go back and re-read that before March.
A Very Murray Christmas (trailer) A Christmas movie starring Bill Murray and every other movie star in the world? Sign me up!
Blog Love
On the Internets