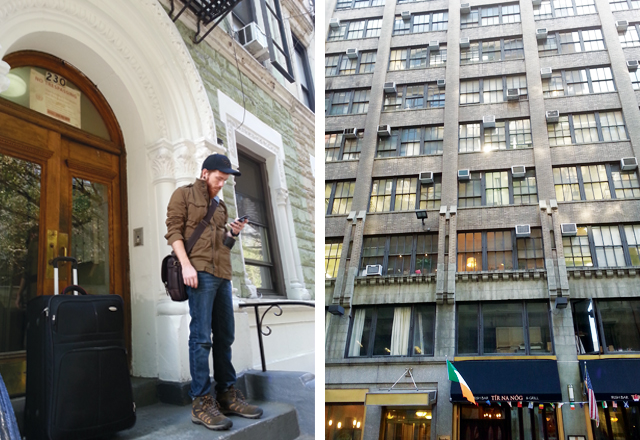 We've been in New York City for one full week now, which is crazy! Thank goodness for Fridays, because this has been the most exhausting week.
We arrived last Friday afternoon to pouring down rain; I'm talking the soaking kind, where all three suitcases and both messenger bags were soaked through almost immediately. We dragged our heavy luggage a block north of crowded Penn Station in an effort to flag down a taxi instead of standing in the taxi line at the station in the rain… I mean, do these people not realize they can walk a block east or north and catch all of the taxis before the people in line do? Maybe not, but when it's pouring buckets I'm cheating.
We arrived at our AirBnB in Chelsea and found the keys our host left for us to let ourselves in, realizing soon after than her building was a walk-up…and she lived on the fifth floor. If I hadn't been so concerned about Dan falling down the stairs with our huge, heavy suitcase on his back, I may have filmed the feat for future entertainment. Sidenote: when you've been a lazy bum for months and have also had a cough/bronchitis for several weeks, climbing four flights of stairs is an incredible undertaking. That's 72 stairs several times this past week; once we were up, we were up for the night!
We spent much of Saturday and Sunday with a real estate broker that a friend had referred to me. We saw several apartments and gained a more realistic idea of what we would have to spend for a space that felt suitable (read: big enough for a bed and a couch; updated enough that the tiles still had grout; maybe a toilet that didn't have a stick knob like my elementary school bathroom). We "decided" on one each day, only to call him later and tell him it didn't feel right and we'd like to keep looking. Also, this broker isn't to sell us an apartment…this guy is just the middle man to help us rent, and like a broker for sales, he comes with a fee. This was a big decision and a big chunk of change to throw down after only two days of looking. As Monday approached, we felt more and more stressed out.
I started my new job on Monday! I realize now I haven't really shared anything about it, so here goes: I'm a graphic designer (one of two) for an events and management company here that owns several restaurants. I'll be working to design promotional and marketing materials for these venues as well as any photography, videography, etc, they might need. I really like it so far! It's very fast paced (a lot of "put this project on hold and do this really fast for me,") and I'm starting to get a feel for the company and the restaurants. Looking through some of their coverage in the press I've found that I signed a confidentiality agreement for good reason: lots of celebrities and NY hot shots frequent these venues for a variety of things (branded parties, Super Bowl parties, just random dinner date nights with other important friends,) and apparently two of my higher-ups are literally dating supermodels. It's really weird…this position should be interesting! Also, my hours are kind of strange and have been difficult to adjust to…I work 11am-7pm; for what reason, I have no clue.
Dan headed into his new office on Monday as well. His job transferred so he's with the same company, but he's meeting an entirely new staff and he'll be the only developer/IT staff in this office. Things seem to be going well for him and he's starting to figure out how to navigate the subway and city streets. He works 9am-5pm. I really wish we matched up more on that, but what can you do? It's not so bad, though. He's been meeting me as I get out of work and we'll walk to dinner together and talk about our day, so that's been a nice new routine.
So back to the apartment… With the stress of starting the new job, with my weird new hours, with us not being able to go view any places after work (because of my hours), and with me going back to the doctor again this week for another round of antibiotics (I just can't seem to kick this! The rainy weekend couldn't have helped…), and with the clock ticking on our AirBnB (which ended yesterday at noon)…we just flat out couldn't deal. The one apartment we liked had terrible management reviews. Move-in plus broker fees would have nearly broke our bank account. The stress levels were too high. (I promise to write an entire post one day about the process of moving to NYC, because there is truly nothing like it on the planet. Never in my life!)
At the last minute Wednesday afternoon, I found a short-term furnished apartment online. We paid up front for 30 days and moved our things in before work yesterday. It's pretty much a glorified hotel room, but it's our glorified hotel room! For a month, at least. Hopefully now that we're here and getting "settled" we can take our time finding out where we want to be long-term. We're currently in Hell's Kitchen/Midtown West and can both walk to work in Midtown, so that's nice! It's a great neighborhood. I'm so happy to unpack a suitcase for the first time in two months!
And I just wrote the longest blog post ever, ha! On to a few things I found online this week…
Watching
Fear the Walking Dead Finale Who watched it and loved it?! I'm so excited for the next season of The Walking Dead. I have a theory that they wouldn't have thrown this random mini-season in the middle of two WD seasons unless we were going to meet these FTWD characters later in the regular WD. Right? Is that a crazy idea? Will Rick and Travis take on the world together?
On the Internets