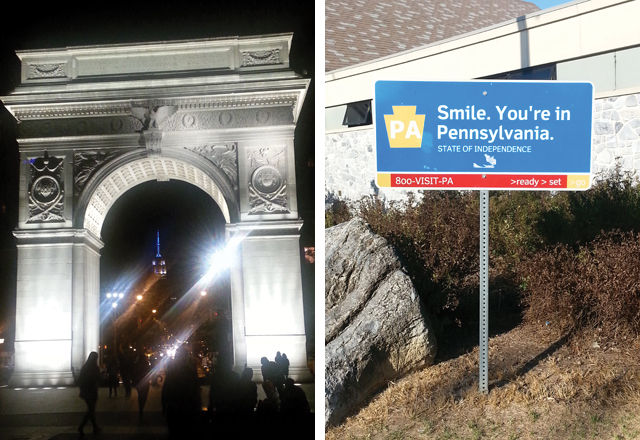 Hello from Harrisburg, Pennsylvania! It's been a long week and we're happy to be settled in one place for the weekend. We're currently staying with Dan's uncle and aunt at their home here in PA. The rest of his family will be joining us this evening to celebrate his uncle's 40th birthday over the weekend. It should be a really great time!
I've been on the road and absent all week and I feel like it will be a few more weeks before I can get back to a consistent blogging schedule. Things have become increasingly unpredictable as we try to get moved and settled and I'm afraid it will be a couple more weeks before we see the end of this.
Hopefully we'll have a path set in place soon, though! I had an interview in Manhattan on Wednesday and Dan and I rushed to make it all happen. On Tuesday we unpacked and repacked suitcases, drove all the way to New Jersey, parked the car, hopped a train, and landed in our hotel room after midnight. Craziness. I interviewed late Wednesday afternoon, which gave the two of us plenty of free time to wander my old neighborhood and enjoy each other's company. The interview went really well and I'll find out if I got the job on Monday!
What a whirlwind! We just realized that those two nights in Manhattan were the first two nights we've spent alone (just the two of us, not with family) in seven weeks! Unreal.
I went all the way to New York City and only took five photos on my crappy old phone. Shout-out to the girl in Washington Square Park who took this beauty for us. It's bad when the best photo you took was one of your breakfast.
Listening To
Sia,"Alive" Sia's new album "This is Acting" releases soon, full of songs she originally wrote for different artists. This song was originally written for Rihanna, then Adele, but she's happy it was never released by either and she had the chance to release it herself.
Blogger Love
Helene is hosting another free webinar, this time on how to "Get Noticed Now." I attended her first webinar on getting paid to blog and can already tell you, this one will be awesome!
On the Internets