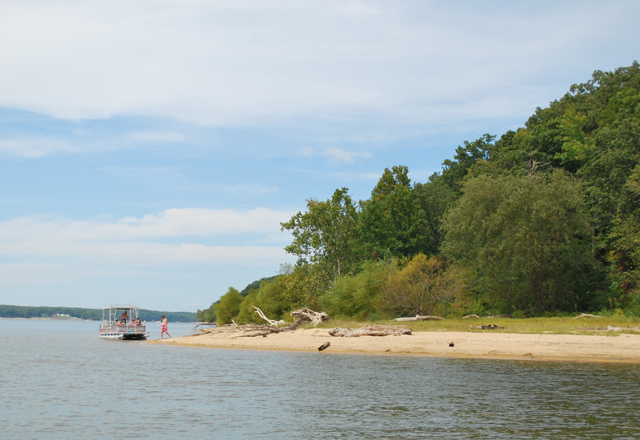 Dan and I spent Labor Day weekend with my parents and their friends at the lake, something I used to do frequently but haven't done in about three years! My parents' friends are like surrogate parents to me and I absolutely love spending time with them, from trips like this to beach vacations to annual Christmas parties. It's like being with a big extended family and I've really missed being around them all.
We rode the boat over to "their beach," set up a couple of tents, and pulled out the coolers and grill. I'm fairly certain my father and two other guys managed to cook nearly 100 hot dogs, which was definitely overkill for our group of about 20. My uncle showed up in his boat with my cousins and I rode around with them for a while as the kids took turns riding the tube behind us. It was just such a nice time. Tons of laughs and lots of great meals; my kind of lake weekend!
In case you haven't noticed, I'm down to only posting twice a week. I definitely intend to go back up to at least three a week as soon as we have a few more things in place with our lives. I have many plans for this space as we start our new lives in New York, we just have to get there first. But right now, job hunting and organizing our lives is my first priority. (And wish me luck… I have a few interviews falling into place over the next week!)
ICYMI
I visited one of my favorite shops in Roanoke last week and shared a bit about it on Tuesday. If you're into restoration, DIY, or salvage of old architectural pieces, Black Dog Salvage is the place for you!
Reading
Watching
Divergent & Insurgent We've had a couple of dinner+movie nights with Dan's parents this week and chose to watch these two with them. Now they're excited for part three next March. Have you seen these movies, or read the books? I really loved the books, but it definitely didn't have the fandom of The Hunger Games or anything else dystopian.
Wet Hot American Summer Dan and I watched this on Wednesday to prepare ourselves for the Netflix Original reboot, Wet Hot American Summer: First Day of Camp. 15 years after the original movie (in which you saw the last day of camp), this new Netflix show takes place on the first day of camp, has the original cast, and from what I've seen so far, is amazing.
The Maze Runner: The Scorch Trials (trailer) I read the first Maze Runner and decided not to continue the series after I finished, but I did go see the first movie when it came out last September and really enjoyed it. I may not read The Scorch Trials, but I definitely want to go see this when it comes out on the 18th!
Blog Love
On the Internets