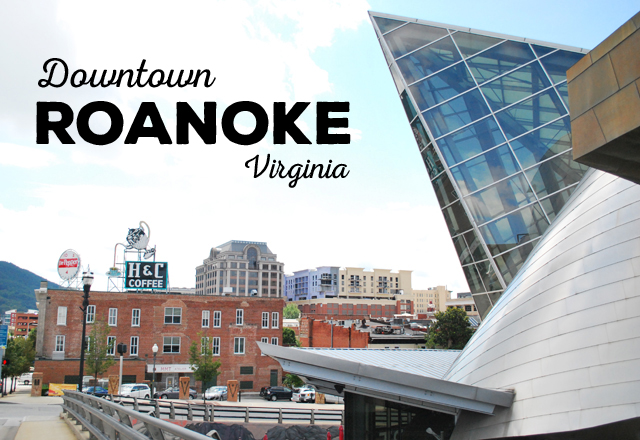 During my final years of college and the first few years of Dan's and my marriage we lived in his hometown of Salem, Virginia. Salem is located just a few miles west of the city of Roanoke, Virginia in the western half of Roanoke County, so downtown Roanoke and its other many little neighborhoods feel just like home to me. (People from the area may argue that "Salem isn't Roanoke," and I agree that they're different, but I'm rather fond of the Star City in particular.)
I became most familiar with Roanoke during my time as the marketing manager at the now-closed Arts Council here. As we worked with the state's arts commission and Virginia Tourism Corporation, I was shocked to find out that Roanoke didn't really seem to receive the recognition it truly deserves. If you visit the VTC's website, you'll find that Roanoke and it's surrounding region isn't actually considered it's own place. Instead, it's sort of situated at the intersection of four different regions: Central Virginia, Southern Virginia (where my parents live), the Blue Ridge Highlands, and the Shenandoah Valley. Roanoke is almost forgotten in this layout, thrown in last minute as possibly part of all of them, but technically in a lost little corner of the extremely different Shenandoah Valley.
I really hate that Roanoke is represented in this way. As such a huge fan of the region, there is so much more to Roanoke that it's given credit for. There's a lively music scene, is extremely arts oriented, and offers a seemingly endless list of outdoor activities. It has also been frequently compared to Asheville, North Carolina, which is such a compliment! So when I've talked to people who are familiar with the western part of Virginia, such as Harrisonburg (100 miles north) or Blacksburg (40 miles west), I'm always shocked when they have never been to or know absolutely nothing about Roanoke. One Virginia Tech student I talked with once said she "drove past Roanoke on I81 a million times (on her way to and from VT) but never visited," because she "didn't know there was anything there." What?! Roanoke boasts twice the population of both Blacksburg and Harrisonburg, so this is just a crazy thing for me to comprehend.
I talk up my love for Roanoke everywhere I go. Downtown is absolutely booming, with renovations turning lovely old brick buildings into apartments and new businesses, a brand new amphitheater in Elmwood Park (Joan Jett and the Blackhearts played there just last Thursday night!), and the state's oldest continually-used farmer's market lining Market Street is open six days a week.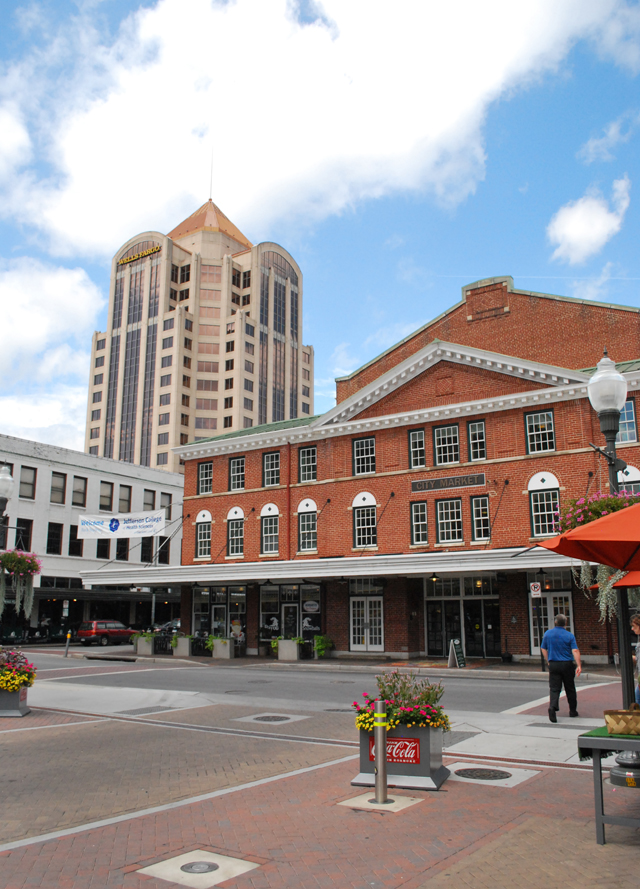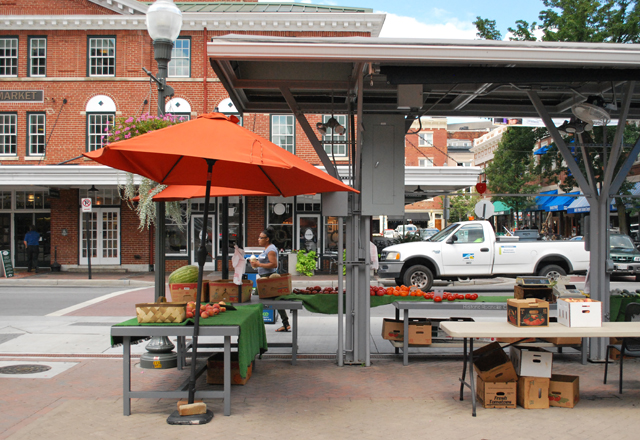 The historic City Market Building was completely renovated in the last decade and serves as a food court full of locally-owned restaurants. The rest of downtown seems to radiate from this central point, with shops, restaurants, bars, and galleries along the streets all around it. Across the street from the Market Building is Center in the Square, a combined organization building which houses an aquarium, a butterfly habitat, The Science Museum of Western Virginia, The Harrison Museum of African American Culture, The History Museum of Western Virginia, and the Mill Mountain Theatre stage. (Whew!) The rooftop gardens and deck also offer a fantastic (and free) view of downtown and the surrounding valley! Just head inside and take the elevator to the top floor to take in the view. From there you can see across the tracks to the gorgeous Hotel Roanoke (far left in the photo below,) a place worth the short walk over the pedestrian bridge for a visit.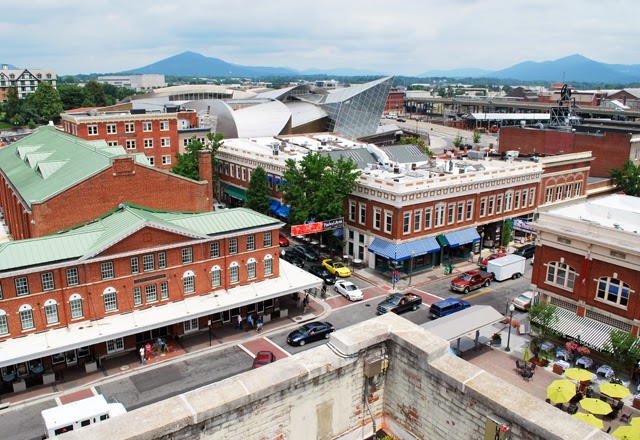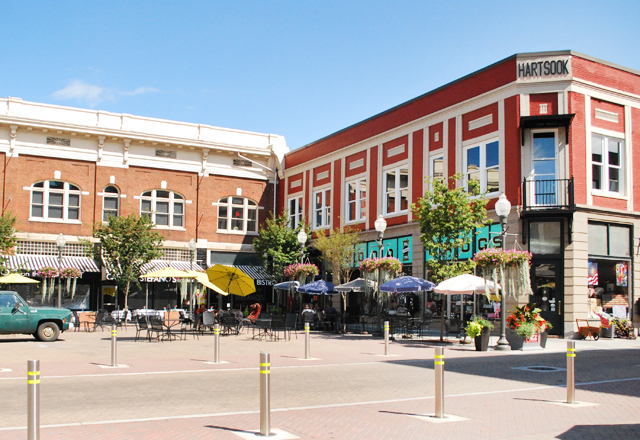 Not only home to the farmer's market, Market Street also boasts a varied collection of restaurants and shops. Eli's Provisions offers a large selection of local and imported wine, beer, and other goods, such as my favorite locally-roasted Red Rooster Coffee (from Floyd, Virginia). Chocolate Paper is a must, selling on-trend gifts and paper goods along with delicious locally-made chocolates. I could go on and on, but this little street is just so full of great places to visit.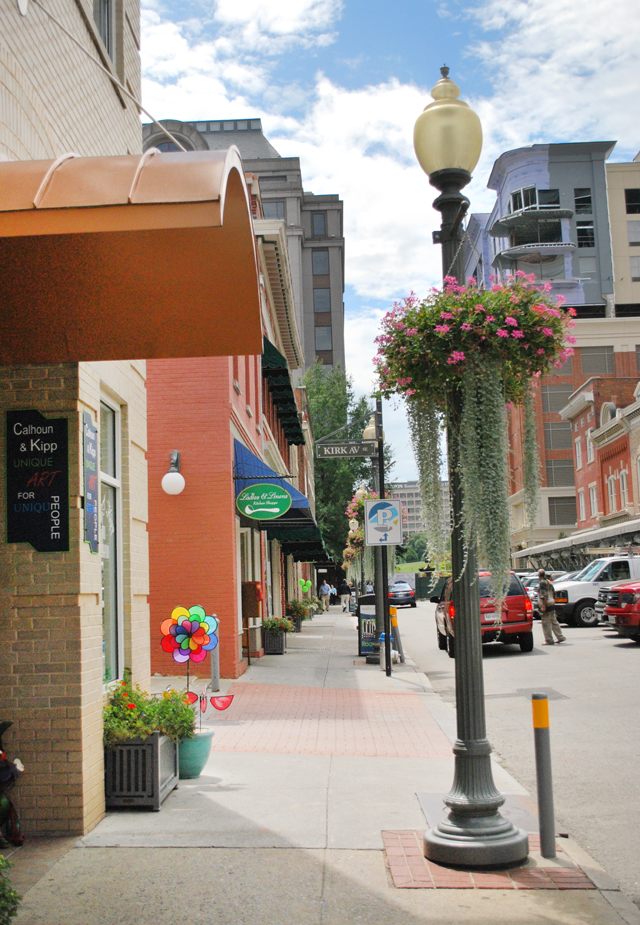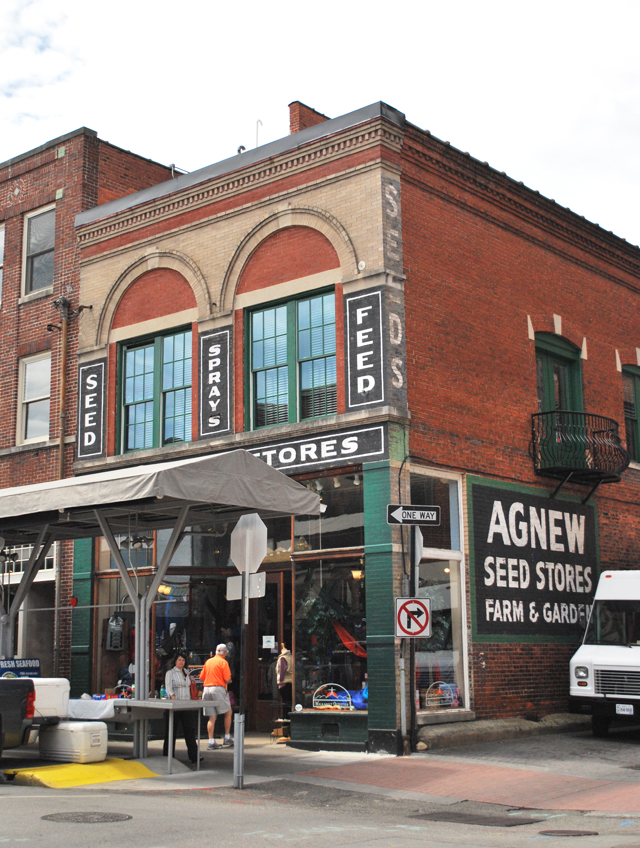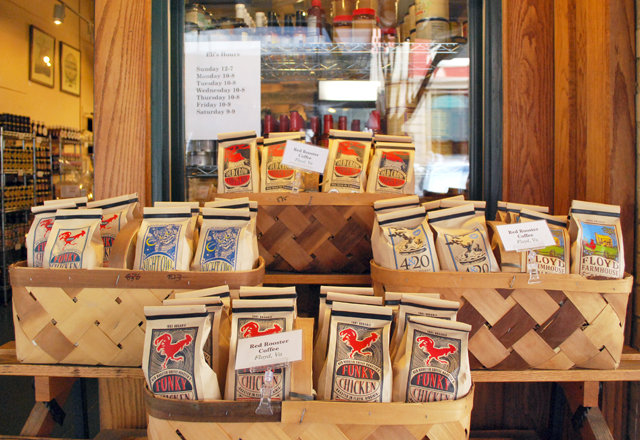 Last Thursday Dan and I headed downtown to meet our friend Jared for lunch at Wasabi's on Market Street. Wasabi's is Dan's favorite place to eat downtown, and he claims they have the best sushi in the Roanoke area.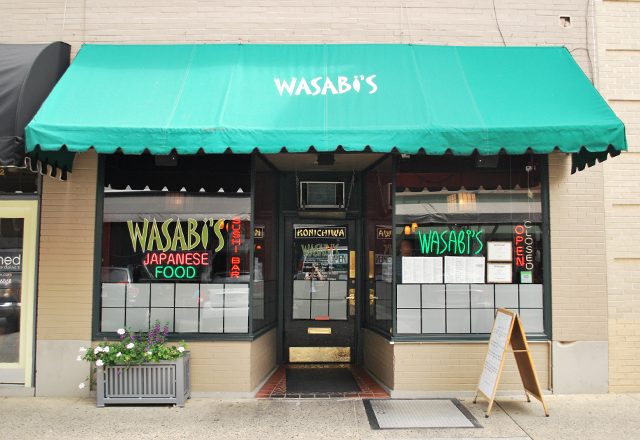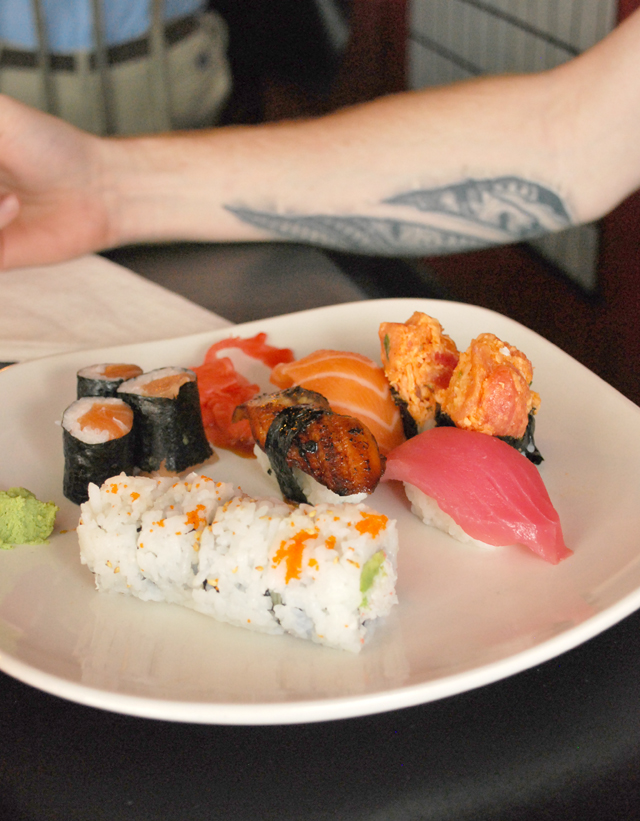 I also highly recommend wandering east and west along Campbell Avenue and west along Kirk Avenue and Church Avenue. As downtown continues to grow, businesses and places of interest continue to spread out throughout the downtown area. You never know what you'll stumble upon if you simply wander around!
I also cannot talk about downtown without talking about the Taubman. The Taubman Museum of Art is one of the most interesting (and highly debated) downtown institutions. Many people argue that it's Frank Gehry-esque architecture simply doesn't fit in with the rest of historical downtown Roanoke, but I'm one who applauds it's modern architecture and appreciates that it sticks out (literally) amongst all of the brick and concrete, almost a symbol of Roanoke's attempt to keep up with the times despite simply being a little railroad town that isn't even regarded as significant by our own state's tourism department. One visit inside proves that the movers and shakers of Roanoke seem undeterred by any of this, bringing world-class exhibitions and art by household names, as well as local artists, to the public for the incredibly unbelievable admission price of: free. That's right, admission is free…there's no excuse not to go inside!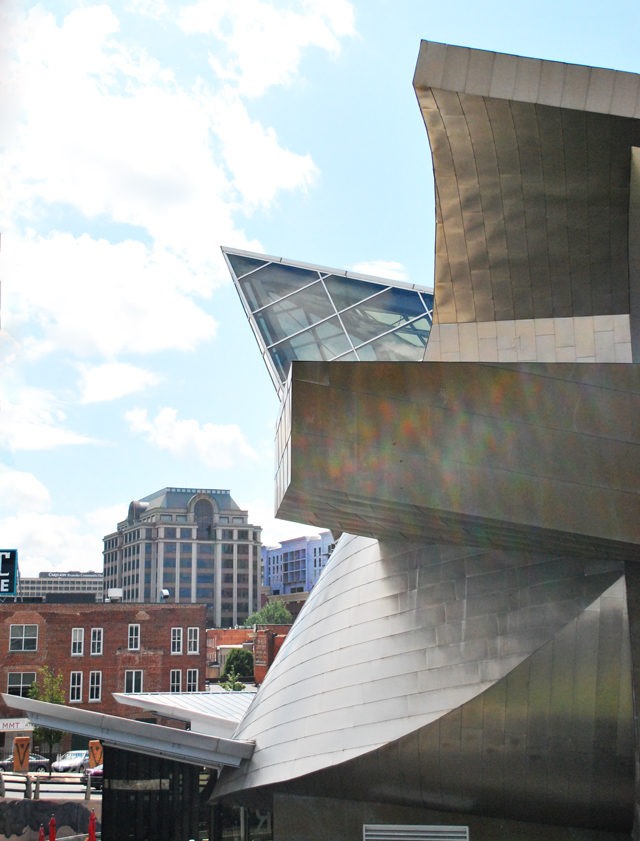 I could seriously go on and on about things to do, see, and more about Downtown Roanoke, but I'll save that for another day. Until then, here are a few recommendations for a visit to downtown Roanoke:
(Zip code 54011)
Accommodations
Hotel Roanoke, 110 Shenandoah Ave NW. This is currently the only hotel that is within walking distance of downtown, but another one is being built (purple and tan, as seen in photos above, under construction.)
Hampton Inn & Suites Downtown Roanoke, 27 Church Avenue. A brand new hotel (2016) that sits conveniently between Market Street and Elmwood Park. (updated info 2/27/17)
Breakfast/Coffee:
Lunch/Dinner:
Jack Brown's, 210 Market St SE. Burgers, beer, and deep-fried Oreos!
Benny Marconi's, 120 Campbell Ave SE. The biggest slice of pizza you've ever seen. Open late late.
Lucky's, 18 Kirk Ave SW. Farm-to-table fare.
Nawab, 118 A Campbell Ave SE. Classic Indian fare with a lunch buffet.
Blue 5, 312 2nd St SW. Great food, tons of beer on tap, and frequent live music.
Fortunato, 104 Kirk Ave SW. Creative dishes and cocktails.
The Roanoke Valley Convention & Visitors Bureau's website,
VisitRoanokeVA.com
* does a wonderful job sharing the many events, festivals, and other happenings going on in Downtown Roanoke and the surrounding area. They also provide more info on nightlife and places of interest. Like I mentioned before, I could go on and on about things to do in the area, but if I've convinced you to visit they've already done the work!  
*This is not a sponsored post