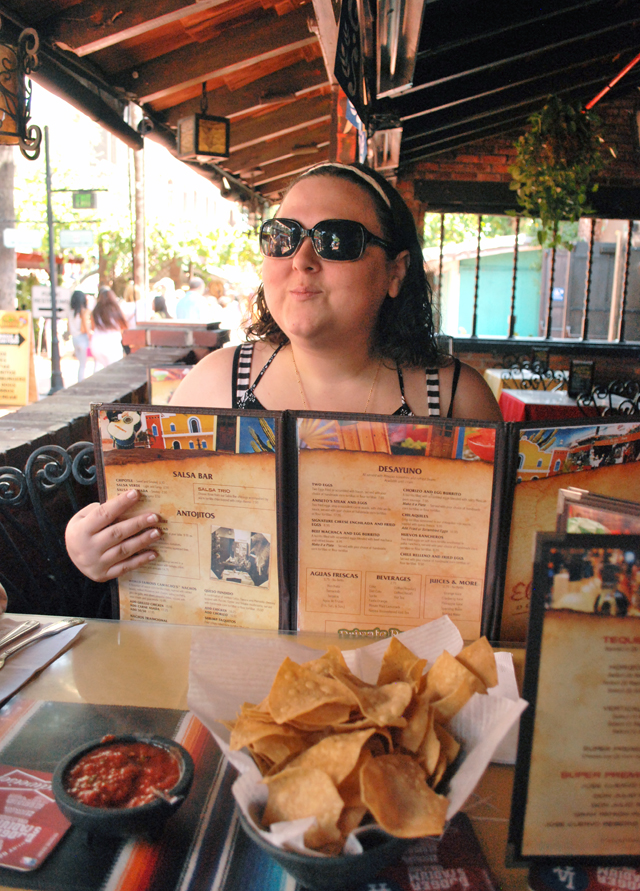 My friend Claire arrived really late on Thursday night, rushing into town for a long weekend visit to California before we move away in two weeks. Her long day of travel was complete only after we lost couldn't find each other in LAX (with a dead cell phone, no less) followed by a long 2am trip back to our home in Orange County. Undeterred by our exhaustion, we set out on Friday morning to make the most of her short time here. We designated Friday as our day to explore Los Angeles, followed by two days in Orange County.
We hit several highlights in LA on Friday, and I think Claire felt like she was able to see most of the things and places she'd heard about in the city. We had lunch on Olvera Street, saw the Walk of Fame, Chinese Theatre Forecourt, and Hollywood sign from the Hollywood and Highland Center, drove circles through and got "lost" in Beverly Hills, and wandered the Third Street Promenade and pier in Santa Monica. We finally gave in to how tired we were and headed back home, topping off our night with dinner at Pieology Pizza with Daniel.
During dinner Dan told us that his Saturday climbing plans were going to be postponed "because of the storm we're expecting," to which I asked, "what storm?" Something I've learned living in Southern California… one rarely needs to check the weather. We joked about how little it rains here and that we'd continue on with our beach plans for the weekend, because the chances were slim, right? Dan and I have been here for two years already and while it has rained and even poured a few times, we have never once seen lightning or heard thunder while living here. We laughed about this and joked that of course it would storm and thunder the one weekend Claire visited, even after all this time.
Saturday morning we headed out to Laguna Beach. We visited Aliso Beach before I took her north to visit the hidden little beach where Jeff had taken us paddleboarding the weekend before. We were taking photos along the cliffs when the lifeguard came to tell us they were closing all of the beaches due to the incoming storm. It was then that I saw my first flash of lightning over the ocean, followed by the rumbling sound of thunder. Of course. Welcome to sunny California, Claire! Ha! We retreated back to Tustin and decided that indoor activities, like Japanese BBQ at Gyu-Kaku, pedicures, and wine in my living room floor, were preferable for the remainder of the day.
Sunday was surprisingly sunny out, so the three of us headed to Huntington Beach for a while before beginning the trek back to LAX. Wandering around and people watching on Main Street in Huntington is enough of an activity, but we spent a good amount of time watching the surfers from the pier. They were already setting up the stands, shops, and skate bowl on the beach for this year's US Open of Surfing, which begins next weekend (which makes me think of how crazy it is that I'll have been here for three US Opens by then!) Nothing beats the laid back vibe of HB, so I'm really glad we were able to spend some sunny time there before the bottom dropped out again, soaking all of OC and LA and delaying Claire's flights home several times over.
It was so weird seeing some of these things and places with Claire and thinking that it might be years before I see them again. We know for sure that she was our last guest in California, and that's a really strange feeling. I'm so glad I got to play tourist here one last time!