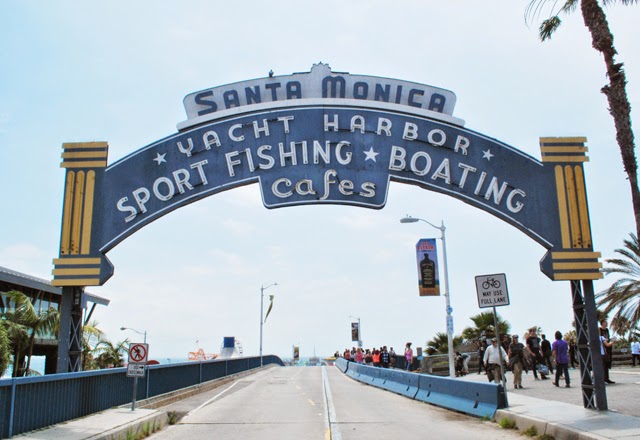 Dan and I were on a mission this weekend: visit Santa Monica before the high tourism season starts. Mission accomplished! Because Memorial Day is just next weekend, we figured we should hurry and make it happen before visiting would be a nightmare. Last summer's attempt to show our friend Caleb some of Orange County's beaches showed us just how difficult it can be to enjoy much of anything around us during tourist season, and we truly learned from that experience. (We ended up taking him to Malibu instead, which worked out rather well.)
 Even though I was
just in Santa Monica last Monday
, this trip still needed to happen with Dan in tow. He'd never visited before and I just couldn't let him move out of California without spending a day there! We headed up without much of a plan, and luckily the 405 freeway has been pretty nice to us lately so we were there fairly quick (
in LA time
.)
I always park in the same parking garage when visiting Santa Monica and am always shocked that there are empty spaces in such a perfect location. This lot is located at the corner of 3rd Street and Broadway and even has its own lanes for traffic on the street; no confusion, panic, or circling to get into this one! That might have something to do with the fact that it doesn't even come up as an option when you search for "parking" around here on Google Maps, which is just crazy because I know it exists. I've parked there twice this past week! This could be because it serves as a parking garage for Santa Monica Place, a multi-story outdoor mall attached to this garage, but that doesn't mean it's a private lot. It's also super affordable; free for the first 90 minutes and only $1.50 per hour after that. I've heard rumors that some shops validate parking but haven't had the luck; the shops in the mall are probably the ones for that. (The mall is also the best place to find a clean public restroom!)
From this parking structure you are literally stepping out onto the Third Street Promenade. Shops and restaurants line each side of this pedestrian-only plaza and buskers sing and perform all along the center. There's everything from Urban Outfitters to Nordstrom, Chipotle to Johnny Rockets. My favorite shop and restaurant are conveniently as close to the garage as they could get. Kitson is an amazing shop full of fun gifts and clothing to give or keep; many of the things you'll find inside are California or LA themed and make much better souvenirs than anything you'd find in one of those cheap touristy shops elsewhere. Kitson is located on the corner of 3rd Street and Broadway just like the garage, actually sharing its back wall with the parking structure. You literally can't get any closer! My favorite place to eat is a little cafe called the Cafe Crepe, conveniently located just perpendicular from Kitson. They serve tasty crepes, coffees, and sandwiches. Dan and I shared a four-cheese and tomato panini and followed it up with a strawberry and nutella crepe. Yum!
Just two blocks west lies Ocean Avenue. Directly across the street is the Santa Monica Senior Center; this is the home of Santa Monica's Camera Obscura (as seen in this post.) After having no luck getting in on Monday, Dan and I were able to get in this time and experience the camera for ourselves. As a photography student and lover of the history of photography, this was something I was really excited to experience with my own eyes. For anyone unfamiliar with what they are, a brief photography lesson: The camera obscura was the first way that man discovered we could accurately portray a scene by recreating images that were cast into a darkened room through a tiny hole. Artists would trace or etch the scene onto something at the time. Later it was discovered that certain photo-sensitive chemicals could transfer the cast images onto surfaces, such a metal, and the first photographs were born. If you've ever heard of pinhole cameras, this is the same concept. From inside the near pitch-black room we could see scenes from the beach and street cast onto a metal surface in the center of the room and use a wheel to turn the camera and change the scene. I almost felt like I was spying on people who were walking by, unaware that we were watching them from inside.
Afterwards we walked south through the park and onto the infamous Santa Monica Pier. You cannot visit Santa Monica for the first time without visiting the pier! There is so much to see an do on the pier itself: ride the rides at Pacific Park (though, I'll pass,) watch trapeze artists from the Trapeze School of NY, have lunch at one of the many restaurants or fast food places, or my favorite, people watch. Dan was also pretty sure he saw some famous TV actor. When in LA, right?
Another fun thing I'd like to do one day is rent bikes and ride them from Santa Monica down to the Venice Beach boardwalk. I noticed that there's a Blazing Saddles rental kiosk right at the beginning of the pier; I cannot speak to their service here, but we rented bikes from them to ride along the waterfront in San Francisco and had a great experience. There seem to be a few other rental places along Ocean Avenue to rent from as well, and I'm sure they'd be just as nice.
We had such a nice afternoon in Santa Monica and I'm glad we were able to go before it got too crowded! Sometimes I feel like we're saying "goodbye" to places around us for the last time, at least for a long while, and I'm starting to get a little sentimental about the places I've loved here. I'm not sure if we'll make it back to SM again in the short time we have left. It might just be my favorite place to visit in LA.