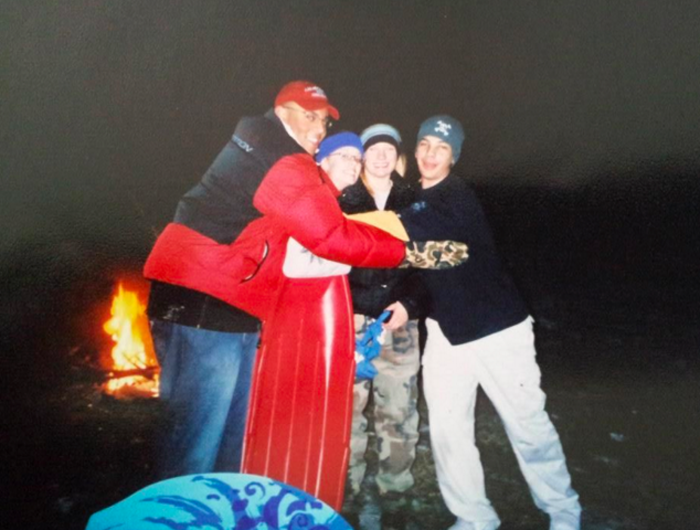 Newton, me, Kelly, and Johnathan at Seamster Hill after a day of sledding, (picture of a picture) 2003(?)
Seeing all of the photos on Facebook of everyone playing in the snow back home makes me nostalgic for those times of my own. I have such great memories of spending my entire snow days outdoors. I would be on the 4-wheeler as soon as possible in the morning and ride around and sled all day. My favorite times are when my brother and I would meet up with friends from neighboring farms and sled down Seamster Hill on snowboards, tubes, plastic sleds, and even an old metal truck hood, pulled back up by a 4-wheeler and chain. (Totally a thing. Totally a redneck thing, maybe, but a thing nonetheless.) Sometimes friends from other parts of the county would brave the icy back roads to make it to my house and join us for these days of riding and sledding. In the evenings a fire would be built at the top of the hill where we'd spend a bit of time warming up before riding home in the dark. Mom would make us enter the house through the basement where we'd shed our dripping coveralls, hats, and gloves and warm up by the wood stove before heading upstairs. I would do anything for another snow day like that.
Unlike the -1˚ temperatures and 8″ of snow my family and friends in Virginia have right now, we're just coming down from a heat wave. It was 89˚ earlier this week. Although the weather here is definitely one of the best things about living in Southern California, the lack of changing seasons and a visual reminder of the passing of time has been very disorienting, making it also one of my least favorite things about living here. I guess when you grow up with the excitement of snow days and the beautiful transitions of Spring and Fall it's really hard to suddenly go two years without anything like them. I guess our equivalent of snow days might be the times when it rains for more than 20 minutes and people don't go in to work for the fear of driving (or of other drivers) on the freeway. (Yes, this is a real thing, too.)
Other than my envy of the snow (the grass is always greener, guys,) this month has had me dreaming of home frequently. What I wouldn't give to curl up on my parents' couch with my Zoë cat and watch the snow fall with them. I especially want to be home when I'm dealing with difficult life changes. A week ago I surprised myself when I finally put in my two week notice at work. It was only a matter of time; I had become miserable there for a million different reasons. It feels like a weight has been lifted from my shoulders and the relief has affected my physical and emotional state in ways I couldn't have expected. Yesterday HR told me that they were accepting my resignation a week early (with pay! score!) so I am currently sitting on my couch at home at 11:30 on a Friday morning. I guess my next step is to figure out where to go from here, but first I'm going to enjoy this unexpected Friday on my couch with Audrey kitty and then a weekend in San Diego with Daniel's family. What I wouldn't give to be able to hop on a plane and spend a few of these days off with my family, but I'll see them soon enough.
Nothing is as exciting and scary as having no idea what lies ahead. Where will I be a week from now? What will I be doing in a month? How about year? And will it involve snow? I surely hope so.