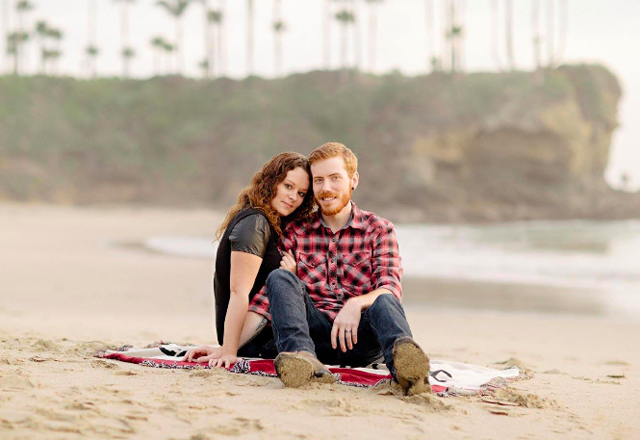 2014 will be over in approximately six five hours for us here in Southern California. I grew impatient throughout the day at work while sneaking peeks at celebration preparations of my European and East Coast friends. Luckily, working for a wine distributor means gifts of celebratory sparkling wine!
This has been a fun year and our lives have been repeatedly blessed. Hard work paid off for Dan in the form of a promotion. We moved into a perfect new apartment in a great part of town. Chelsea and her little kitty Audrey still live with us and they are fantastic roommates. (Auds is also a great little cuddle buddy!)
Our circumstances this year have allowed us to enjoy life like never before, mostly in the form of more frequent traveling. (If only my job would allow a bit more freedom in this department!) I went on my first business trip to Salt Lake City in February, and we also did a lot of exploring on our own.
I still can't believe we live this close to LA, and it does have its perks. This year we've visited Universal Studios, the Warner Brothers lot, the LACMA, the Melose Flea, the Farmers Market, and Santa Monica on many occasions. Dan and I attended a concert at the Palladium, and Chelsea and I attended a performance of Cirque du Soleil TOTEM. So while LA was never part of any plan for me, I'm happy we've ended up so close to the City of Angels.
We also ventured outside of SoCal a little bit…
We returned home to Virginia twice this year; once in June for one of my best friend's weddings, and again just last week to be with family for Christmas.
Dan and I visited San Francisco for the first time at the end of August and tried to cross everything off of our SanFran to-do lists over a long weekend.
Dan's grandfather and his wife invited us to spend Thanksgiving with them in Alaska, and it was breathtaking (both because of its beauty and how very cold it was!)
This year wasn't all fun adventures and happiness, though. I have been sick repeatedly, from a slipped disc in my back over the summer to a middle ear infection that has caused unending vertigo and other problems over the past six weeks. But I just keep on keeping on, determined not to let it get me totally down. Here's hoping 2015 will be "the year of healthy," and not like "the year of sick," as I've been calling it. Maybe I can even get it a bit more rock climbing than I've managed lately.
I'm excited for 2015. I want to be healthier, to travel more, and to drink up every bit of California that I can over the next few months. 2015 will be another big year full of big changes for us, and even though I don't know exactly what all of those changes will entail, I'm excited nonetheless.
We're celebrating tonight by going out for a nice dinner and drinking a bit of that Prosecco I brought home from work while we watch the (pre-recorded, 3 hours later) Times Square Ball drop!

Happy New Year & Cheers! Bring it on, 2015!

Header photo by Samantha Polanco Photography, Oceanside, CA