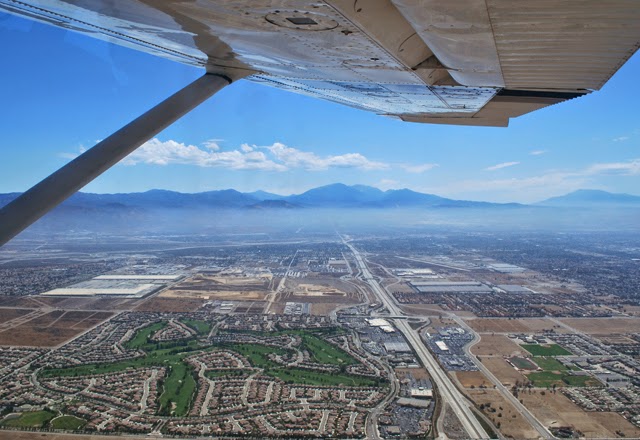 When Dan and his grandfather began communicating more frequently, he let him know that he and his wife were planning a huge trip from their home in Alaska over the summer months. This trip would include a few stops in Arizona, Texas, and Southern California. The best part, and the reason for so much travel freedom? They own their own plane.
When the time got closer, we began planning to meet them on the San Bernardino side of the mountains. After a quick meet-up and snack from In & Out, we headed to the small Chino airport and went for a ride in their plane.
We flew all over San Bernardino County, stopping at another small airstrip so Dan could spend a little while in the pilot's seat. (Dan's grandfather is a flight instructor and stayed put as co-pilot, allowing him the ability to control the plane at a moments' notice.) This was his second time flying a small aircraft, and to say he was excited is an understatement. Dan landed us at the Big Bear Airport and we all went inside for some lunch. The cafe inside overlooked the runway and we all watched the planes land and take off while we caught up and enjoyed our meal.
Next up was my turn to fly. This was my first flying experience and I was terrified. For anyone who hasn't been in a small aircraft, these guys move around a whole lot more than your commercial planes. Every little bit of turbulence could be felt as we bumped along through the desert skies.
I flew us up over the desert area above Pioneertown and Joshua Tree and we all had fantastic views of Black Lava Butte. I highly suggest taking in the scenery this way, because it's unlike anything I'd ever seen before.
Eventually, I landed back in San Bernardino and let Grandpa take the wheel. He flew us back to the much more populated Chino air strip, and a part of me was glad the bumpy ride was over, ha!
I'm so glad we were able to spend this time with them. It was a special day, and I hope we're able to do it more in the future.