Tomorrow marks the three month anniversary of us arriving in California. I honestly can't even believe it! Time sure does fly.
Not to sound like a total baby, but this is the longest I have ever gone without seeing my family. No matter what was going on with my busy life in Virginia I could always find the time to spend a day, night, or weekend on the farm at least once a month or at least every six weeks. Going home to visit is my favorite! And we were always just a few minutes drive from Dan's family… I now think we took it for granted and didn't hang out enough. (But just 4 months til we'll be home for Christmas!!)
I have finally started going through the pictures of our trip over so I can make another photobook of our memories. I used to scrapbook like crazy as a teenager but these are an easier and quicker way to do something similar. I found a few great photos that I had passed over before, like this shot of Dan pumping gas in the middle-of-nowhere Texas. Why I decided to have a gas station photoshoot is beyond me! I must have been bored. And he just looked so handsome, of course.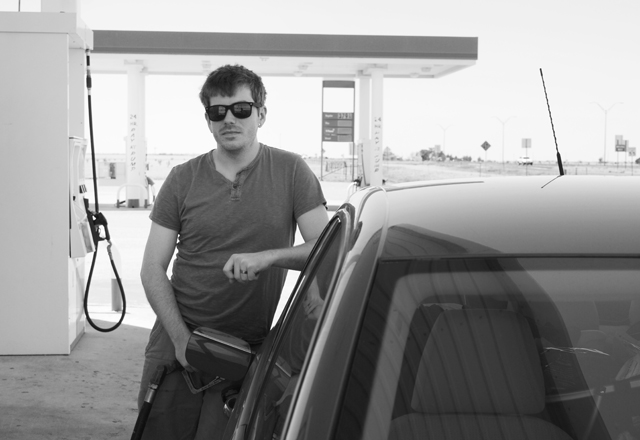 The East coast is starting to see the end of summer. My mom has gone back to school for her last year of teaching. Facebook is full of "feels like fall" and "chilly enough this morning to turn the heat on" posts. Meanwhile, here it's 75˚, 0% humidity, not a cloud in the sky, every window and door wide open… feeling exactly the same as it did the day we arrived. While a part of me is really enjoying this, it's disorienting. Seeing things online about the East coast coming into hurricane season was the first thing that made me recognize that summer was even nearing it's end. I won't get the fall colors here, the crunchy leaves underfoot… there won't really be a fall-crisp-air hoodie season because winter will technically be our new hoodie season. I don't know how I feel about it. Fall has always been my favorite. A friend pointed out to me that everyone else will be jealous of us come January, when everyone we know is shivering and getting snow while we can go venture down to the beach in 58˚ weather.
Watching "New Girl" on Netflix the other night (based in LA), a girl comes rushing into the apartment asking if Nick had found her scarf because, "it's 65˚ and freezing!" I used to laugh at that idea, but maybe now it will feel that way to me too! It reminds of watching this clip back in February, while it was in the 20˚s in VA and we had snow on the ground! Ha! I would have thought 55˚ felt like summer! This is my future… no telling how we'll react when we visit home at Christmastime!