Life has been ticking along here in California, and it certainly is feeling much more like regular life opposed to a vacation. My freelance work is going really well and I even got my first check this past week! I realized while chatting with Di that this was my first paycheck in over ten months! Woah!
Chelsea and I have been spending some afternoons laying out by the pool in the sun. I tan very easily and have acquired quite a tan already! We went to Target last night to buy inflatable lounge floats so we can float around in the pool instead of alternating between the lounge chairs and dips in the pool to cool off. I'm excited for another pool day soon!
And we now have craft time! Chels bought us both notebooks to keep our California memories in and we've been sort of scrapbooking in them with pages from travel brochures and maps we picked up at a local CA Visitor's Center.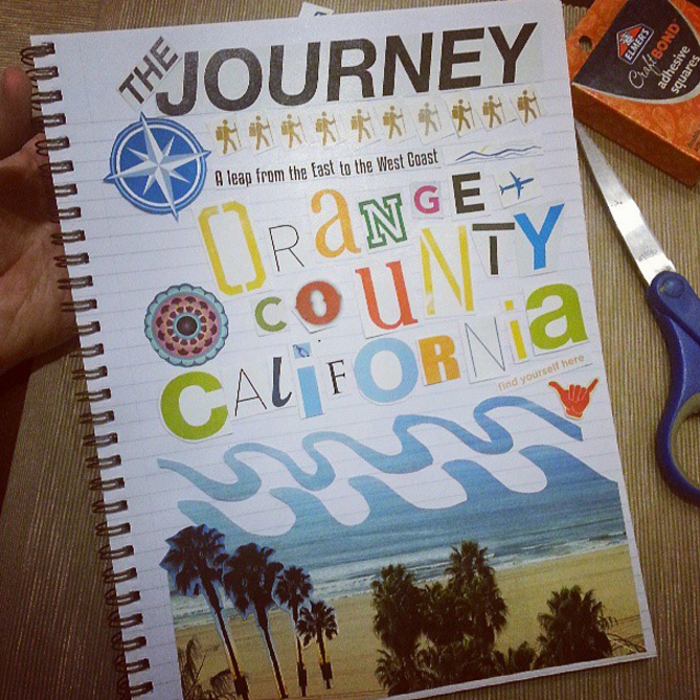 Last weekend we made a trip to Newport Beach to buy postcards to send home and to find more local magazines and brochures to cut up for our "crafternoons." It was nice to explore that area in the daylight. The beach there is pretty fantastic. It's amazing to me how different all of the beaches around here can be, especially considering they're all only a few miles apart from each other.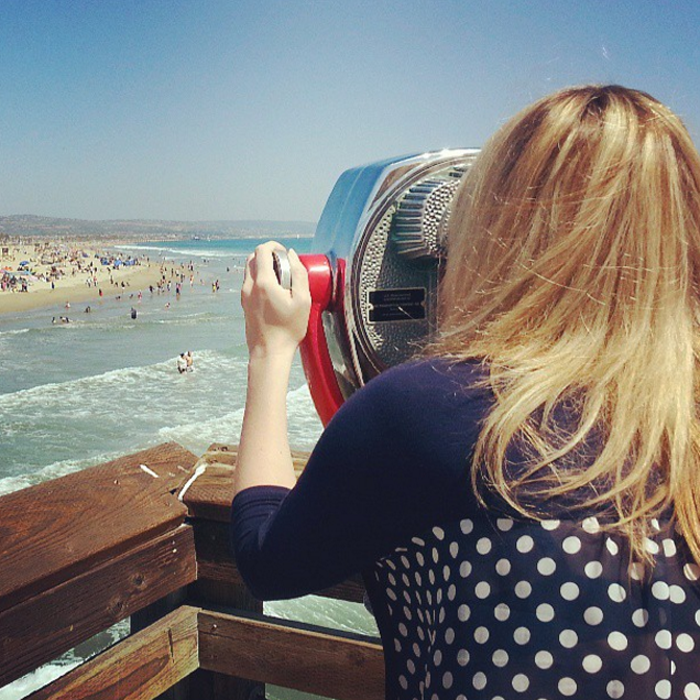 Dan has been very busy working on a project that he, Austin, and James are doing in their spare time. This consists of him coming home from work and immediately getting on the computer, where he stays until bedtime. This is quite familiar from projects of the past. Needless to say, I'm pretty glad I have someone to hang out with while he's so busy.
But someone else has been hanging out, too… something is living in our ceiling! There is attic space above our apartment and an access panel in Dan's closet, but hell if I'm sticking my head up through there! No telling what would attack my face! After determining that this little critter had to be bigger than a mouse based on the heavy THUMP sounds we hear nightly, I stupidly suggested that it was a nocturnal animal and could possibly be a cat. To this I received laughs and a reminder that "cats aren't nocturnal!" Ever since I've been calling the little critter in the ceiling our nocturnal cat. I'm pretty sure it's just a rat or maybe even a squirrel, but calling it the nocturnal cat is much more fun. Now if only the maintenance guys could get it out of there so I can sleep at night!
We're going down to San Diego this weekend and I'm excited to visit with Dan's family, eat some enchiladas in Old Town, and show Chels around. I'm determined to take lots of pictures!