Dan turned 28 today and we spent the weekend celebrating exactly how he likes to enjoy his birthdays… quietly. 🙂
We drove down towards Huntington Beach Friday night and called in a pizza order on the way. We also called our new friends James, Laura, and their kids and told them we were headed to their part of town. We sat down on the boardwalk and shared a large pizza and cupcakes I'd made earlier in the day and then walked around in the sand a bit. It was a wonderful, spontaneous night!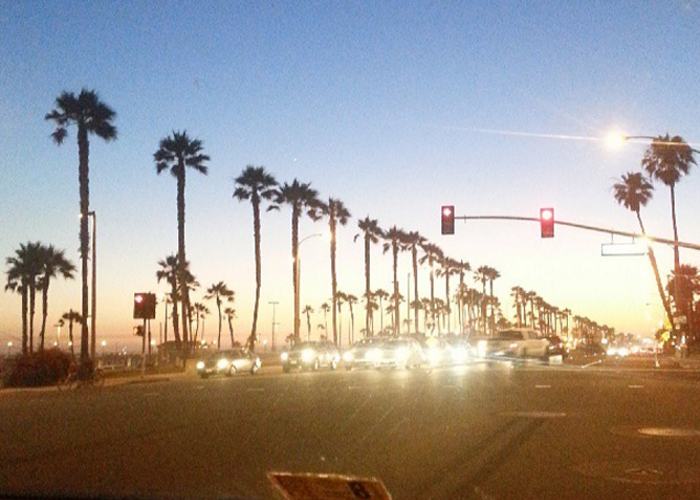 Saturday we got up and drove down to San Diego to stay with Grandma and Bill. After dinner with them we headed to his uncle's and hung out with his family until the early hours of the morning. Dan finally understands the eeriness that comes from a pack of coyotes howling… there was an entire pack just on the other side of Pete's fence just howling away, and I can't even explain that sound unless you've heard it yourself. All of the hair on your body stands straight up. Ahhh! That's what you get when you live out in the wilderness, especially the desert!
We spent Sunday afternoon watching Life of Pi… amazing movie, by the way! I haven't read the book, but Di is bringing it to me next time she visits so I can do this thing backwards haha. For dinner the entire family headed to Studio Diner, which is an old diner that was built beside a movie studio just so the staff/actors/everyone working would have somewhere to eat 24 hours a day. The food was so good!
And I'm the worst at carrying any camera other than my phone with me lately… and even then I haven't been taking pictures with my phone. I guess I'm just too busy enjoying myself to think about it! I looked at Dan earlier and went, "I don't have any pictures of you on your birthday!!" So I made him look up and smile at me, in the kitchen haha… such a great birthday photo!